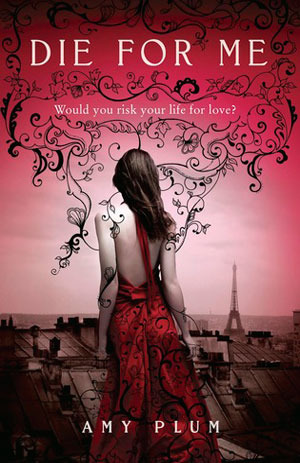 Title
: Die For Me
Series
: Revenants, Book 1
Author
: Amy Plum
Publisher
: HarperTeen
Release Date
: May 12, 2011
Genre
: Young Adult Paranormal Romance
Told
: First Person (Kate), Past Tense
Content Rating
: Teen (up to Page 126: death by subway train)
Format Read
: Paperback (purchased)
Find On
:
Goodreads
Purchase
:
Azon | B&N | BookDepo | Indiebound
Summary
:
In the City of Lights, two star-crossed lovers battle a fate that is destined to tear them apart again and again for eternity.

When Kate Mercier's parents die in a tragic car accident, she leaves her life--and memories--behind to live with her grandparents in Paris. For Kate, the only way to survive her pain is escaping into the world of books and Parisian art. Until she meets Vincent.

Mysterious, charming, and devastatingly handsome, Vincent threatens to melt the ice around Kate's guarded heart with just his smile. As she begins to fall in love with Vincent, Kate discovers that he's a revenant--an undead being whose fate forces him to sacrifice himself over and over again to save the lives of others. Vincent and those like him are bound in a centuries-old war against a group of evil revenants who exist only to murder and betray. Kate soon realizes that if she follows her heart, she may never be safe again.
* * *
I did not finish this book. I stopped at Chapter 16 (36% through).
The full Revenants trilogy has been lingering on my shelves for years, so when it caught my eye yet again last week I finally decided to give it a try. I recalled this 2011 release was supposed to resemble
Twilight
, and boy did it. A "normal" girl moves to a new place and catches the eye of a beautiful immortal boy who accidentally but irrevocably entangles her in his dangerous paranormal world. Also like
Twilight
, I found the writing inexplicably engrossing, and despite the stupidity of a young girl insta-falling for a "bad" boy, I couldn't put the book down.
Until Chapter 15. The confusing paranormal element had been revealed, leaving just the romance to look forward to - and I almost never look forward to romance. There I was, reading about their sweet date and gorgeous view (Paris and Vincent), and I was immediately bored.
All interest suddenly lost, I searched the reviews for how the paranormal elements might intriguingly expand and add action to the romance. I read the summaries of the next two books, looking for twists and reasons for me to continue reading. But sadly, I didn't find any. Clearly Kate continues to be a teenage girl making bad decisions in the name of instalove, and after I really didn't find the paranormal element all that plausible I just didn't feel like devoting any more of my hard-earned reading time to the rest of the series.
Do I regret trying it? Surprisingly, no.
I've been curious about it for years and now know exactly what it's about. And although it wasn't my kind of read, with its engaging writing style, unique paranormal elements, and (as far as I read, anyway) innocent teen romance,
I could easily recommend it for paranormal romance lovers who enjoy exotic settings
.