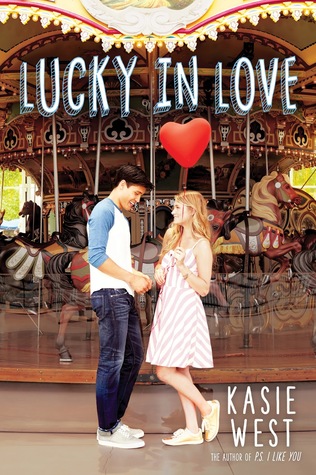 Title
: Lucky in Love
Series
: standalone
Author
: Kasie West
Publisher
: Scholastic
Release Date
: July 25, 2017
Genre
: Young Adult Contemporary Romance
Told
: First Person (Maddie), Past Tense
Content Rating
: Teen (kissing)
Format Read
: ARC (publisher)
Find On
:
Goodreads
Purchase On
:
Amazon | B&N | Book Depository
Summary
:
In this new contemporary from YA star Kasie West, a girl who wins the lottery learns that money can cause more problems than it solves, especially when love comes into the picture.
Maddie doesn't believe in luck. She's all about hard work and planning ahead. But one night, on a whim, she buys a lottery ticket. And then, to her astonishment --
She wins!
In a flash, Maddie's life is unrecognizable. No more stressing about college scholarships. Suddenly, she's talking about renting a yacht. And being in the spotlight at school is fun... until rumors start flying, and random people ask her for loans. Now, Maddie isn't sure who she can trust.
Except for Seth Nguyen, her funny, charming coworker at the local zoo. Seth doesn't seem aware of Maddie's big news. And, for some reason, she doesn't want to tell him. But what will happen if he learns her secret?
With tons of humor and heart, Kasie West delivers a million-dollar tale of winning, losing, and falling in love.
* * *

Review copy provided by publisher for an honest review. Thank you, Scholastic!



In a Sentence
: A sweet if predictable contemporary romance about family, friends, future, and the uncertainty of money.
While Kasie West is and will always be one of my favorite authors,
Lucky in Love
was kind of a mixed bag for me. On the one hand it was a Kasie West novel, which meant a light writing style with great banter, relatable characters, and a sweet romance. But on the other hand, the predictable "naive young girl wins lottery" plot gave me an uneasy sense of dread through most of the book, which wasn't the greatest reading companion for a contemporary romance.
The story began a little dispiriting as Maddie's family struggled with money problems and the tension it can cause. When she won the lottery the mood lightened, but with Maddie's naivete it was obvious the disasters that would unfold and so I read in a constant state of cringe. I'm not one who enjoys watching a train wreck, so I spent most of the book dreading when everything would inevitably fall apart. Luckily Seth was there with his innocence and banter to lighten the tense mood, but even he could not fully buffer what was to come. To my relief the conclusion was not as bad as I'd expected, although given it was a Kasie West story I really should've anticipated a lighter touch. There was some inevitable sadness, but ultimately a lot of happiness as Maddie finally started making some smart decisions about the money and her future.
Conclusion
: While not my favorite Kasie West story, I did enjoy the read despite some dread at the predictable young lottery winner disasters. Overall with its fun premise, relatable characters, and sweet romance, I recommend
Lucky In Love
as a great summer read and any time you need a light romance with heart.