Waiting on Wednesday is a weekly blogging event hosted by
Breaking the Spine
, in which one spotlights an upcoming release they are eagerly anticipating.

This week's pre-publication "can't-wait-to-read" selection is: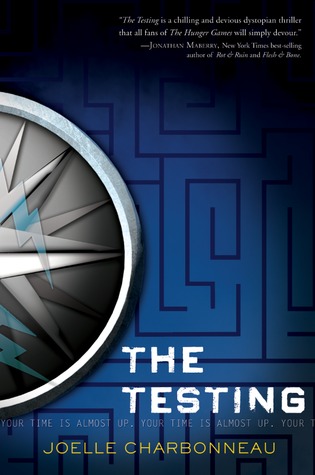 Title: The Testing
Author: Joelle Charbonneau
Publisher: HMH BYR
Release Date: June 4, 2013
Keep your friends close and your enemies closer. Isn't that what they say? But how close is too close when they may be one in the same?
The Seven Stages War left much of the planet a charred wasteland. The future belongs to the next generation's chosen few who must rebuild it. But to enter this elite group, candidates must first pass The Testing—their one chance at a college education and a rewarding career.
Cia Vale is honored to be chosen as a Testing candidate; eager to prove her worthiness as a University student and future leader of the United Commonwealth. But on the eve of her departure, her father's advice hints at a darker side to her upcoming studies--trust no one.
But surely she can trust Tomas, her handsome childhood friend who offers an alliance? Tomas, who seems to care more about her with the passing of every grueling (and deadly) day of the Testing. To survive, Cia must choose: love without truth or life without trust.

Why I'm Looking Forward To It: This is being billed as the next Hunger Games, and I'm ready for a replacement to get that excited about! Even if it's a little too close in some ways (so I've heard), it's supposed to still be really good, so I'm definitely looking forward to it.


So what book are you waiting on?