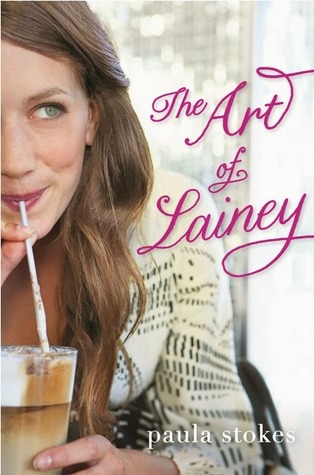 Title: The Art of Lainey
Author: Paula Stokes
Release Date: May 20, 2014
Publisher: HarperTeen

Summary:
To win back the one she loves, she'll have to go to "war."
Soccer star Lainey Mitchell is gearing up to spend an epic summer with her amazing boyfriend, Jason, when he suddenly breaks up with her—no reasons, no warnings, and in public no less! Lainey is more than crushed, but with help from her friend Bianca, she resolves to do whatever it takes to get Jason back.
And that's when Lainey and Bianca stumble across a copy of The Art of War. The girls are sure they can use the military handbook to lure Jason back into Lainey's arms. So Lainey channels her inner warlord, recruiting spies to gather intel and persuading her coworker Micah to pose as her new boyfriend to make Jason jealous.
After a few "dates," it looks like her plan is going to work! But now her relationship with Micah is starting to feel like more than just a game. Can fighting for what she wants help Lainey find what she really needs?
Paula Stokes is half writer, half RN, and totally thrilled to be part of the world of YA literature. She started out writing historical fiction under a pen name and is now branching out into other YA genres.
When she's not working (rare), she's kayaking, hiking, reading, or seeking out new adventures in faraway lands. She's petted tigers, snuggled snakes, snorkeled with stingrays, and once enjoyed the suction-cuppy feel of a baby elephant's trunk as it ate peanuts from her palm. Her future goals include diving with Great White sharks, learning Krav Maga, and writing a whole slew of novels, not necessarily in that order.

THE INTERVIEW

Summarize The Art of Lainey in one sentence:
It's the story of a slightly clueless girl who loses her boyfriend and tries to win him back, finding herself in the process.
What was the initial spark that created Lainey?
I've been pretty candid about admitting I wrote this book to get over my own heartbreak. Of course when I say that, some people immediately assume Lainey is me exactly. No, just for the sake of clarification. I'm not a soccer star or into celebrities. I've been a fan of rock and punk and metal music since sixth grade. The circumstances surrounding the breakup are totally different. The characters are different. There is no torture-pancake restaurant…that I know of. Basically my whole life was going good and someone I cared about a lot bailed on me. And instead of trying to win him back, warlord-style, I cried and moped for a couple of weeks and then decided to write about it to feel better. Somehow the sad things in my brain turned into sort of funny stuff on the page and the idea for the book evolved from there.
Who was your favorite character to write, and why? Who was your least favorite?
I would have to say I liked writing Micah the best because he reminded me of people from past who either introduced me to life-changing music or opened my eyes in some other way. Most people don't surprise me. When they do, and they surprise me in a good way? Yeah, I never forget that. I also really liked writing Trinity because she kind of epitomizes the person I try to be—kind, thoughtful, brave, comfortable in her own skin. I didn't really have a least favorite character to write. I guess the PC answer here is Kendall but I'm not much for being PC. ;-) Mean girls are fun to write because you don't have to censor their dialogue or behavior. I was sad when Kendall lost a lot of her backstory and a sort of "end moment" in the revision process, but it was the best thing for the book.
What's your favorite line/passage in Lainey?
I have lots of favorite passages so I tend to pick a different one each time someone asks me this. What about:
"Forget The Art of War," Bee says. "Use The Art of Lainey."
I peek up at her. "I'm pretty sure that book will not be getting published anytime soon."
It took a while for this book to sell. It's good to be able to poke fun at yourself. ;-)
What were some of the subjects you researched?
Off the top of my head and definitely not all-inclusive: The Art of War, tea leaf reading, espresso machines, fake tanning, modeling camp, Mexican culture, astronomy, The Tragedy of Faust, Venus flytraps, One Flew Over the Cuckoo's Nest, shock generators, soccer, tattoos, Mizzou, scholarships, the Culinary Institute of America. Cool tidbit: Did you know that a venus flytrap can eat a frog?
Lainey has a lot of direct quotes from The Art of War by Sun Tzu – each chapter is even headed by a passage from it. What is your favorite line/passage from The Art of War?
"He will win who knows when to fight and when not to fight." I'm not very competitive so The Art of War was a tough read for me, but you can apply this passage to so many things in life—both in the sense that you have to pick your battles wisely and also that sometimes not fighting is its own reward.
Paula Stokes' The Art of Lainey Love List
Lainey's character growth

Micah's hair

(See, my priorities are totally in check ;-D)

Lainey starting to put makeup on Bianca and then deciding she's stunning without it

Lainey's musical awakening

Mizz Creants House of Torture (and Pancakes)

Lainey admitting to herself she likes Micah, but not telling him because she thinks he's better off with Amber

Lainey looking down at the party scene and seeing her "friends" for what they are for the first time

Lainey telling Kendall "I'm remaking myself, and I like the new me better."

Trinity

Trinity's cat shoes

The second-best feature joke

The soccer game scene—last minute addition

The cookie-breaking scene—last minute addition

Using the band name Hangman's Joke as a shout out to The Crow (Best. Movie. Ever.)

Lainey's mom talking sex and birth control

The story about how Lainey's mom and dad ended up together

Lainey's brother learning they'd been wishing on Venus their whole childhood, but not telling her
And that's it! My thanks to Ms. Stokes for the awesome interview! :)
Be sure to check out the rest of the tour
here
!