Waiting on Wednesday is a weekly blogging event hosted by
Breaking the Spine
, in which one spotlights an upcoming release they are eagerly anticipating.

This week's pre-publication "can't-wait-to-read" selection is: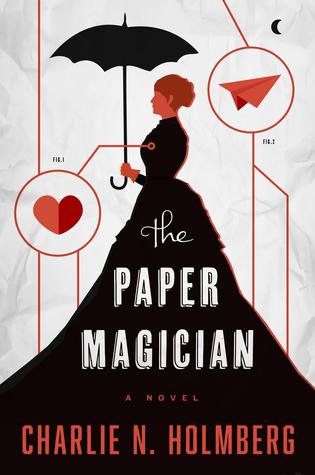 Title:
The Paper Magician
Author: Charlie N. Holmberg
Release Date: September 1, 2014
Publisher: 47North
Summary:
Ceony Twill arrives at the cottage of Magician Emery Thane with a broken heart. Having graduated at the top of her class from the Tagis Praff School for the Magically Inclined, Ceony is assigned an apprenticeship in paper magic despite her dreams of bespelling metal. And once she's bonded to paper, that will be her only magic…forever.
Yet the spells Ceony learns under the strange yet kind Thane turn out to be more marvelous than she could have ever imagined—animating paper creatures, bringing stories to life via ghostly images, even reading fortunes. But as she discovers these wonders, Ceony also learns of the extraordinary dangers of forbidden magic.
An Excisioner—a practitioner of dark, flesh magic—invades the cottage and rips Thane's heart from his chest. To save her teacher's life, Ceony must face the evil magician and embark on an unbelievable adventure that will take her into the chambers of Thane's still-beating heart—and reveal the very soul of the man.
Why I'm Looking Forward To It:
Major thanks to Shae for putting this on my radar! It's exactly my sort of story - as a reader and a writer, paper magic is one of my favorite forms of magic! Love the cover, love that the second book comes out in November (no year-long wait - woohoo!), love that a GR reviewer said

"[i]

t has a lot of the same flavor as Howl's Moving Castle by Diana Wynne Jones

", which is one of my favorite reads ever.
Cannot wait!
So what book are you waiting on?