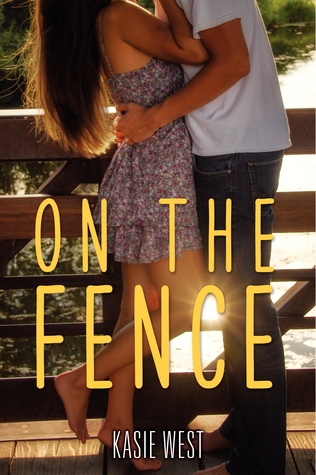 Title
: On the Fence
Series: companion to The Distance Between Us
Author: Kasie West
Publisher: HarperTeen
Release Date: July 1, 2014
Genre: Young Adult Contemporary Romance
Told
: First Person Singular (Charlie), Past Tense
Content Rating: Teen (some thematic elements, kissing)
Format Read
: ARC (trade)
Find On: Goodreads
Purchase On: Amazon | B&N | Book Depository
Summary:
She's a tomboy. He's the boy next door…
Charlie Reynolds can outrun, outscore, and outwit every boy she knows. But when it comes to being a girl, Charlie doesn't know the first thing about anything. So when she starts working at a chichi boutique to pay off a speeding ticket, she finds herself in a strange new world. To cope with the stress of her new reality, Charlie takes to spending nights chatting with her neighbor Braden through the fence between their yards. As she grows to depend on their nightly Fence Chats, she realizes she's got a bigger problem than speeding tickets-she's falling for Braden. She knows what it means to go for the win, but if spilling her secret means losing him for good, the stakes just got too high.
Why I Read It: It's by Kasie West, one of my Top 3 Favorite Authors. If she writes it, I will read it.

Three Words: Playful. Sporty. Quick.

Series: While I went into this thinking it was a standalone, and technically it is I guess, I discovered it was also a companion to last summer's The Distance Between Us as there were cameos from several of the characters! (You can check out my review of The Distance Between Us here.) You shouldn't miss anything if you haven't read TDBU, though.
Writing: Quick and easy and so much fun! The movement was smooth, the dialogue witty and playful. Kasie is a master at never wasting a word. I read it in two days which is extremely quick for me right now - I'm sure most readers could breeze through it in an afternoon.
Setting: A small California town near the beach. It was the barest of stages for this simple story, which was perfect because while it added a nice background atmosphere
it didn't distract from the characters or plot
.
Story: A simple summer story about family, identity, and falling in love. It was quick but hearty with life and love and playful familial interaction. There was a heavy aspect which felt a little too heavy for such an otherwise lighthearted and simple story, but we didn't linger on it too long. As can be expected with Kasie, the end was heartwarming and had me grinning long after I closed the book.
Characters: Charlie was a tomboy on a journey of self-discovery. She thought she knew who she was based on how she fit into her family, but when she discovered there was more to being a girl (and more to life in general), she suddenly wasn't so sure who she wanted to be. While we are complete opposites (I'm not one for sports at all), I loved Charlie's tomboy charm and the easy way she interacted with the boys, and I related to her struggles. Braden was a sweetheart and simply perfect for Charlie. Enough said.
Since most of the time I couldn't tell them apart (entirely my fault for reading so fast),
I essentially considered the entire family a single character.
With so many boys in such a short, simple story, it's hard to give each of them the required time to shine and stand out, at least for me - but I didn't consider it a bad thing! As a group they were perfect as Charlie's protection and playmates and tormentors as only the best siblings are (or so I've heard). For the first time in my life I was extremely jealous of such a large, close and convivial family dynamic, even with its slightly darker undertone.

Romantic Relationship: Just what I love to order off the romance menu: clean, innocent, adorable, awkward, and sweet. Charlie and Braden were perfect for each other, and the best scenes were when they were together.
Conclusion: A quick and adorable summer read, perfect for a lazy afternoon by the pool or on the couch. This pulled so many snickers and snorts out of me - Kasie is a master of both movement and dialogue, and here the two were married to perfection. My only complaint is that I would've liked it to be longer - I wanted more of the pre-acceptance awkwardness! Highly recommend, along with all of Kasie's amazing books!
Read It Again?: Yes
For Fans Of
: Stephanie Perkins