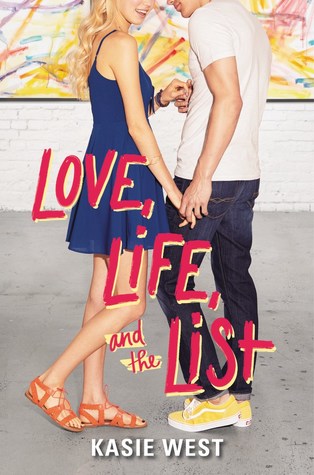 Title
: Love, Life, and the List
Series
: standalone
Author
: Kasie West
Publisher
: HarperTeen
Release Date
: December 26, 2017
Genre
: Young Adult Contemporary
Told
: First Person (Abby), Past Tense
Content Rating
: Teen (kissing)
Format Read
: ARC (trade)
Find On
:
Goodreads
Purchase On
:
Amazon | B&N | Book Depository
Summary
:
What do you do when you've fallen for your best friend? Funny and romantic, this effervescent story about family, friendship, and finding yourself is perfect for fans of Sarah Dessen and Jenny Han.
Seventeen-year-old Abby Turner's summer isn't going the way she'd planned. She has a not-so-secret but definitely unrequited crush on her best friend, Cooper. She hasn't been able to manage her mother's growing issues with anxiety. And now she's been rejected from an art show because her work "has no heart." So when she gets another opportunity to show her paintings, Abby isn't going to take any chances.
Which is where the list comes in.
Abby gives herself one month to do ten things, ranging from face a fear (#3) to learn a stranger's story (#5) to fall in love (#8). She knows that if she can complete the list, she'll become the kind of artist she's always dreamed of being.
But as the deadline approaches, Abby realizes that getting through the list isn't as straightforward as it seems... and that maybe—just maybe—she can't change her art if she isn't first willing to change herself.
* * *


In a Sentence
: A quick and fun teen contemporary romance with an engaging contemporary story but cheesy romance I sadly didn't ship.
When it comes to teen contemporary romances, you can never go wrong with Kasie West thanks to her breezy writing style and signature witty banter. That said, the romance in
Love, Life, and the List
was not for me.
The contemporary part was awesome - girl creates and tackles a list of activities based on traits she admires in her loved ones to gain life experience and broaden her heart and her art for a show. I adored Abby and as a fellow creative could relate to her drive to expand her emotional range for her art, and really enjoyed following her adventures as she gained new perspective about her family, her friends (old and new), and herself.
But then there was Cooper. Don't get me wrong, Cooper was cute and energetic and generally a great best friend for Abby. But as a romantic interest, considering how he treated her and what happened over the course of the book, I did not ship him and Abby at all. I could see why she would be
attracted
to him, but didn't understand why she
loved
him. And Cooper's realization and end confession... it was so cheesy (complete girl service and not guy-realistic at all, in my opinion) that it just put me off them as a couple even more. I never felt the chemistry Abby insisted was between them, and don't feel they should have ever left the friend zone.
Now the requisite contrast boy, Elliot, was sweet and thoughtful and artistic, and if Abby had given up on Cooper like the smart girl I knew she could be and given Elliot a chance, I think they really could've been great together. Kasie perfectly set it up for him to win, but sadly that's not how these kinds of books work. Still, I hold out hope for that unicorn where the (truly) unexpected but totally worthy love interest actually wins. The day I finally find it, I will be the author's devoted reader forever.
Conclusion
: While I enjoyed the artsy and inspiring contemporary story, the cheesy, chemistry-lacking romance just wasn't for me. I'm still a devoted Kasie West fan though and will continue to read anything she writes.