As promised at the end of my Avalon review (which you can find here), the amazing Mindee Arnett has graced me with an interview! Read on to discover the spark that created Avalon, what space location she would visit, her Avalon Love List, and three things we can look forward to in the Avalon sequel, Meridian!
THE AUTHOR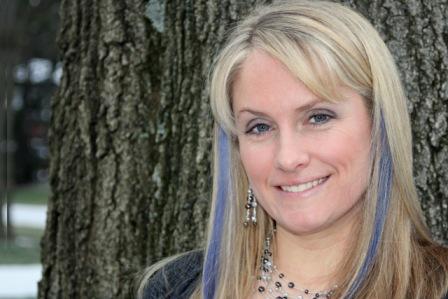 Mindee Arnett lives on a horse farm in
Ohio
with her husband, two kids, a couple of dogs, and an inappropriate number of cats. She's addicted to jumping horses and telling tales of magic, the macabre, and outer space. She has far more dreams than nightmares. She debuted with T
he Nightmare Affair
in March 2013 from Tor Teen; the sequel,
The Nightmare Dilemma
, releases March 2014.
Avalon
released January 21, 2014.
A ragtag group of teenage mercenaries who crew the spaceship Avalon stumble upon a conspiracy that could threaten the entire galaxy in this fascinating and fast-paced sci-fi adventure from author Mindee Arnett.
Of the various star systems that make up the Confederation, most lie thousands of light-years from First Earth-and out here, no one is free. The agencies that govern the Confederation are as corrupt as the crime bosses who patrol it, and power is held by anyone with enough greed and ruthlessness to claim it. That power is derived from one thing: metatech, the devices that allow people to travel great distances faster than the speed of light.
Jeth Seagrave and his crew of teenage mercenaries have survived in this world by stealing unsecured metatech, and they're damn good at it. Jeth doesn't care about the politics or the law; all he cares about is earning enough money to buy back his parents' ship, Avalon, from his crime-boss employer and getting himself and his sister, Lizzie, the heck out of Dodge. But when Jeth finds himself in possession of information that both the crime bosses and the government are willing to kill for, he is going to have to ask himself how far he'll go to get the freedom he's wanted for so long.
Avalon is the perfect fit for teens new to sci-fi as well as seasoned sci-fi readers looking for more books in the YA space-and a great match for fans of Joss Whedon's cult hit show Firefly.
Again, you can find my review of this book here,
and links to purchase
Avalon
are below!
Goodreads
Barnes & Noble
Amazon
Changing Hands
And now...
THE INTERVIEW!
1. Avalon in one sentence:
Firefly meets The Godfather.
2. What was the initial spark that created Avalon?
A lot of my motivation for writing Avalon came out of my heartbreak over Firefly. The show was brilliant and cancelled way too soon. I'll never get over it.
3. Who was your favorite character to write in Avalon, and why?
Jeth. By default, the main character is always my favorite. I have to really want to discover their story to write the book in the first place. Second up is probably Jeth's little sister Lizzie. She's fun and spunky.
4. Avalon is told from a male point of view (Jeth Seagrave). As a female writer, were there any tricks you used to make Jeth's voice more authentic?
None at all, actually. I think that if I had tried to do anything to purposely give him a male voice that it would've sounded false. Instead, I chose to write the story in third person and just went with it.
5. What were some of the subjects you researched for Avalon?
I did a little bit of research on pretty much everything, including Brain Machine Interfaces (BMIs), The Bermuda Triangle (the primary inspiration for the Belgrave Quadrant, an area of space Jeth and his crew travel to early in the book), coral reefs, and the nature of dimensions as examined in the novella Flatland.
6. If you could visit any location in space (real or fictional), where would it be, and why?
At the risk of tooting my own horn, I would have to go with Empyria, which is a mythical planet in Avalon. It's a gorgeous place, a bit like Pandora in Avatar, minus the deadly to human beings stuff, of course.
7. Avalon has a companion e-novella, Proxy. What is it about, and how does it connect to Avalon?
Proxy is a caper story that takes place about a year before the events in Avalon. In it, you get to see how the final member of Jeth's crew joins the team. Even more than Avalon, the events in Proxy have an impact on the soon-to-be-named sequel.
8. Mindee Arnett's Avalon Love List


Avalon – I just love the spaceship. She's everything I would want in a ship.

Jeth – He's tough and brave and yet a big old sap at heart, willing to do anything to protect his family and crew

The Belgrave Quadrant – I love the idea of a Bermuda Triangle in space, and my favorite scene (also the scariest, most ghoulish one) takes place there.

Metatech - This is the technology that allows for humans to travel faster than the speed of light. What I love about it is that it's a dimension that human beings can't sense at all (hence the need for metatech) but which nevertheless exists.
9. Avalon isn't your first book – you debuted in March 2013 with The Nightmare Affair. Tells us about it!
The Nightmare Affair is murder mystery set at a magical school. My favorite description I've heard used about it is Harry Potter meets Scooby Doo.
(Check out The Nightmare Affair here!)
10. Avalon is the first book in a duology (2-book series). What are three things we can look forward to in Book 2, Meridian?
It's darker than Avalon and a little more metaphysical.

Jeth's story comes to a definite conclusion.

However, there is a character I would love to do a spinoff about. We'll see if that happens or not.
I have a signed poster of the Avalon cover to give away! Enter below for a chance to win this beauty - good luck!
(US only - apologies to my International Followers!)
a Rafflecopter giveaway