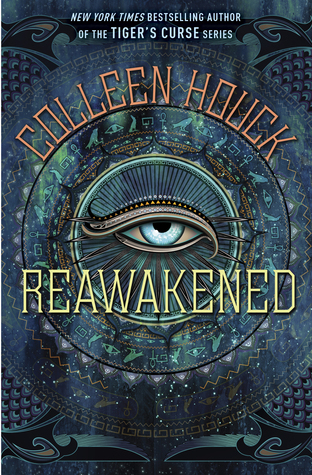 Title
: Reawakened
Series
: Reawakened, Book 1
Author
: Colleen Houck
Publisher
: Delacorte Press
Release Date
: August 11, 2015
Genre
: Young Adult Contemporary Fantasy Adventure
Told
: First Person (Lily), Past Tense
Content Rating
: Teen (up to P95: car accident, mental and physical manipulation)
Format Read
: ARC (trade)
Find On
:
Goodreads
Purchase On
:
Amazon | B&N | Book Depository
Summary
:
When seventeen-year-old Lilliana Young enters the Metropolitan Museum of Art one morning during spring break, the last thing she expects to find is a live Egyptian prince with godlike powers, who has been reawakened after a thousand years of mummification.
And she really can't imagine being chosen to aid him in an epic quest that will lead them across the globe to find his brothers and complete a grand ceremony that will save mankind.
But fate has taken hold of Lily, and she, along with her sun prince, Amon, must travel to the Valley of the Kings, raise his brothers, and stop an evil, shape-shifting god named Seth from taking over the world.
From
New York Times
bestselling author Colleen Houck comes an epic adventure about two star-crossed teens who must battle mythical forces and ancient curses on a journey with more twists and turns than the Nile itself.
* * *
DNF Review
(DNF at Page 95)

In a Sentence
: While the premise was interesting, I couldn't connect with the writing, the main character, or the story, and the magic was unsettling.
I'm intrigued by all things Egyptian (I once even tried to learn hieroglyphics), so when I heard about
Reawakened
I was eager to read it. But despite the exciting premise, right from the start there was something off about the writing that unbalanced everything else, and I found the story rather unbelievable and a little disturbing.
I'm always willing to suspend some disbelief for the sake of entertainment, but here I struggled as the situations felt way too coincidental or just downright dictated. Main character Lily, who was supposed to be really smart, was instead rather dense, but I could tell it wasn't her fault but the story's dictating her personality and knowledge - and the knowledge around her - out of necessity. (She loved to study people but had somehow never heard of anthropology (the study of humans), and her college brochures didn't even list it as an option??) Then when she came into contact with Amon, her reactions were odd, and after a lot of talking and proof that should've persuaded a "smart" person like her it was something insignificant that convinced her to believe him. (My literal reaction: "What?
That
she believes? Seriously?")
And then there was the magic. While I was intrigued by the power to allow one person to live off the life force of another, I found the "necessary" slavish addition highly disturbing as Amon was able to control not only Lily's body with commands but alter her mind and emotions, diverting her thoughts when she focused on things he didn't want her to and calming her when her instincts told her to fear. Although the book insisted there was innocence to it I was unsettled by the way it was handled, and the interesting bits were soon suffocated by the troubling ones.
In the end though, the writing was the final nail in the sarcophagus for me. With flat dialogue and awkward movement on top of the dictated characters and disturbing magic, I struggled to maintain interest despite the plot heading overseas. Clinging to the still intriguing premise I hoped the book would get better, but when a serious case of backstory infodumping began on the plane ride my interest dropped to zero and I finally decided it was time to throw in the Egyptian cotton towel.
Conclusion
: While I really thought this would be just my kind of read, I couldn't connect with any of the elements and lengthy infodumping proved too much for me to continue.
Try It Again?
: Doubtful