Today I spotlight a thrilling Young Adult and a sweet LBGTQ romance novella!
The first is
The Diabolic
, a standalone from S.J. Kincaid. I sadly have yet to read it, but it looks to be just my kind of read and having finally acquired an ARC I look forward to reading it soon! I'm especially excited because it's a standalone - there just aren't enough of them releasing in genre fiction right now.
The second is
Romancing the Inventor
, the first in the Supernatural Society Novella series from favorite author Gail Carriger. Miss Gail is on a novella kick right now, and fans of her Parasolverse could not be happier! This story
involves series-recurring character

Genevieve Lefoux, a favorite among fans and yours truly, so I'm especially excited to read it shortly. Want a copy of your own? Miss Gail has generously donated a signed softcover for one lucky reader, so be sure to enter to win it at the end of this post!
So have you checked out either of these reads yet? If not, do so below!
--------------------------------------------------------------------------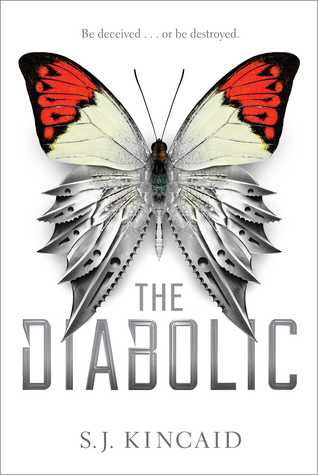 Title: The Diabolic
Author: S.J. Kincaid
Publisher: Simon & Schuster
Release Date: 11/1/16
Red Queen
meets
The Hunger Games
in this epic novel about what happens when the galaxy's most deadly weapon masquerades as a senator's daughter and a hostage of the galactic court.
A Diabolic is ruthless. A Diabolic is powerful. A Diabolic has a single task: Kill in order to protect the person you've been created for.
Nemesis is a Diabolic, a humanoid teenager created to protect a galactic senator's daughter, Sidonia. The two have grown up side by side, but are in no way sisters. Nemesis is expected to give her life for Sidonia, and she would do so gladly. She would also take as many lives as necessary to keep Sidonia safe.
When the power-mad Emperor learns Sidonia's father is participating in a rebellion, he summons Sidonia to the Galactic court. She is to serve as a hostage. Now, there is only one way for Nemesis to protect Sidonia. She must become her. Nemesis travels to the court disguised as Sidonia—a killing machine masquerading in a world of corrupt politicians and two-faced senators' children. It's a nest of vipers with threats on every side, but Nemesis must keep her true abilities a secret or risk everything.
As the Empire begins to fracture and rebellion looms closer, Nemesis learns there is something more to her than just deadly force. She finds a humanity truer than what she encounters from most humans. Amidst all the danger, action, and intrigue, her humanity just might be the thing that saves her life—and the empire.
Add to Goodreads
PURCHASE:
Amazon
|
B&N
|
Indiebound
|
Book Depository
--------------------------------------------------------------------------
Title:
Romancing the Inventor
Series: A Supernatural Society Novella
Author:
Gail Carriger
Publisher: Gail Carriger LLC
Release Date: 11/1/16
Imogene Hale is a lowly parlourmaid with a soul-crushing secret. Seeking solace, she takes work at a local hive, only to fall desperately in love with the amazing lady inventor the vampires are keeping in the potting shed. Genevieve Lefoux is heartsick, lonely, and French. With culture, class, and the lady herself set against the match, can Imogene and her duster overcome all odds and win Genevieve's heart, or will the vampires suck both of them dry?
This is a stand-alone LBGTQ sweet romance set in Gail Carriger's Parasolverse, full of class prejudice, elusive equations, and paranormal creatures taking tea.
Delicate Sensibilities? This story contains women pleasing women and ladies who know what they want and pursue it, sometimes in exquisite detail.
Add to Goodreads
PURCHASE:
Amazon
|
B&N
|
Indiebound
GIVEAWAY
Author Gail Carriger has generously donated a
signed
copy of ROMANCING THE INVENTOR to go to one lucky reader - simply enter using the Rafflecopter form below!
DETAILS:
US mailing addresses only | Must be at least 16 years old | Ends 11/8/16
a Rafflecopter giveaway