Waiting on Wednesday is a weekly blogging event in which one spotlights an upcoming release they are eagerly anticipating.

This week's pre-publication "can't-wait-to-read" selection is: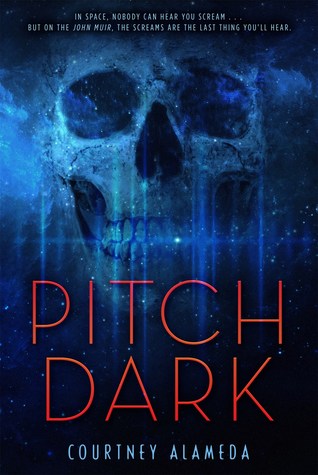 Title:
Pitch Dark
Author: Courtney Alameda
Release Date: February 20, 2018
Publisher:
Feiwel & Friends
Summary:


Tuck Durante is a shipraider, combing space for Earth artifacts from a war that ended 500 years ago. When his parents' ship crashes in the dead zone and the crew goes missing, Tuck hires a ragtag rescue team.
Meanwhile, curator Lana Gray is fighting to keep the US PANAM
John Muir
—and the remnants of its crew—alive. Their space capsule housing Yosemite National Park was hijacked. The hijacking turned ninety-five percent of her crew into nightmarish creatures called mourners who flay, dismember, or decapitate with nothing more than sharp-pitched shrieks.
Now, despite their differences, Lana, Tuck, and their crews must work together to save the
John Muir
. In space, nobody can hear you scream...but on the
John Muir
, the screams are the last thing you'll hear.
Why I'm Looking Forward To It:
It rather astonishes me that I haven't featured this title before as I've been awaiting it since it's announcement in February 2015! Although I'm typically not much for horror I thoroughly enjoyed Courtney's debut, Shutter (check out my review here), and now with her foray into space (my favorite setting) I'm eager to finally get my hands on this chilling read!
So what book are you waiting on?