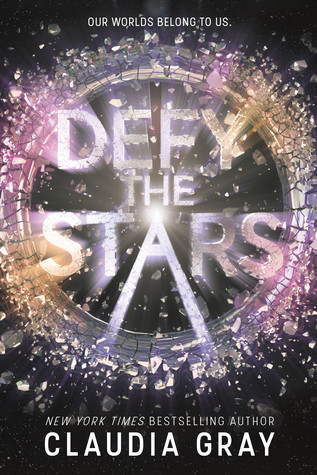 Title
: Defy the Stars
Series
: Constellation duology, Book 1
Author
: Claudia Gray
Publisher
: Little, Brown
Release Date
: April 4, 2017
Genre
: Young Adult Science Fiction
Told
: Third Person Focused (Noemi, Abel), Present Tense
Content Rating
: Teen (violence, kissing, scary situations)
Format Read
: ARC (trade)
Find On
:
Goodreads
Purchase On
:
Amazon | B&N | Book Depository
Summary
:
She's a soldier.
Noemi Vidal is seventeen years old and sworn to protect her planet, Genesis. She's willing to risk anything—including her own life. To their enemies on Earth, she's a rebel.
He's a machine.
Abandoned in space for years, utterly alone, Abel has advanced programming that's begun to evolve. He wants only to protect his creator, and to be free. To the people of Genesis, he's an abomination.
Noemi and Abel are enemies in an interstellar war, forced by chance to work together as they embark on a daring journey through the stars. Their efforts would end the fighting for good, but they're not without sacrifice. The stakes are even higher than either of them first realized, and the more time they spend together, the more they're forced to question everything they'd been taught was true.
* * *


In a Sentence
: A teen galactic travel adventure with an occasionally disorienting writing style and predictable twists but soulful characters, surprise subplots, and an entertaining story.
This is one of those stories that I can't help but claim was written just for me. I'm a huge sci-fi nut and have been craving a "mech falls in love with human" story for a while, so when I heard Claudia Gray was working on one it immediately became a highly anticipated 2017 release. As with her previous novel,
A Thousand Pieces of You
,
it wasn't perfect: the writing tense read loose, the character logic didn't always make sense, and most of the main twists were predictable from the start. But despite the imperfections, the travel adventure story was entertaining, most of the subplot twists and the climax came as a complete surprise, and the energy between Noemi and Abel was a pure delight as she helped him discover his humanity while he introduced her to the galaxy.
The characters were the true highlight of the book. Noemi was strong and had such a good heart, always fighting for immediate worthy causes while still conscious of her own needs and putting her world first, ready to die for it if necessary. Her selflessness was commendable and portrayed perfectly, never for a second coming off as cheap or poorly motivated. She was a truly admirable character and one of the best I've ever read. Abel, aside for a few illogical actions, was also perfectly portrayed as a machine with a soul, thinking one thing but doing or saying what his programming or later experiences informed. I delighted in his emotional progress through the book - he was just what I'd hoped for and more, and I especially loved the contrast between his thoughts and actions. Together Noemi and Abel were a dynamic duo, balancing each other as they traveled the galaxy overcoming obstacles to execute their ultimate plan. There was a semblance of a romantic relationship for them, complicated to say the least as it was between a human and a mech. But complications aside it was pleasantly slow burning and realistic and as it was not resolved in this book I look forward to its hopefully sweet conclusion in the duology's second book,
Defy the Worlds
, currently releasing April 2018.
Conclusion
: While most of the main plot twists were predictable and the writing tense occasionally disorienting, the unpredictable subplots were entertaining and the laid-back writing style made for a relatively easy - and in the case of Abel's voice rather delightful - read. Noemi and Abel were fun and engaging characters whose relationship development I really enjoyed following, and I look forward to finishing their story in the next book!