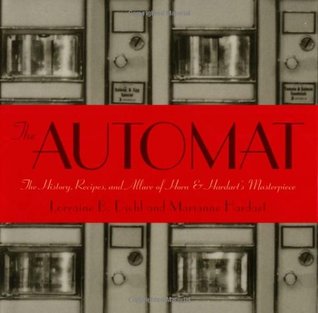 Title
:
The Automat: The History, Recipes, and Allure of Horn & Hardart's Masterpiece
Author
: Marianne Hardart & Lorraine B. Diehl
Publisher
: Clarkson Potter
Release Date
: November 19, 2012
Genre
: Non-Fiction
Format Read
: Hardcover (InterLibraryLoan)
Find It On
:
Goodreads
* * *
Have you ever heard of the Automat? With its nickel throwers and coin-operated food windows and delicious recipes that were tasted by the brass every morning for quality. No? Well, it's about time you did.
The Automat was a really cool chain of restaurants in Philly and New York that prettied up "fast food" in their own special way. Even as it catered to those who could barely rub two nickels together (and if they had two nickels to rub they could go to the Automat for a hot, filling meal), it was also "the place to be" for many famous faces and business icons, and hosted a scene or two in at least a dozen movies.
After reading
The Automat: The History, Recipes, and Allure of Horn and Hardart's Masterpiece
by Lorraine B. Diehl & Marianne Hardart (yes, of
those
Hardarts), I went from being simply intrigued by this part-vending-machine-part-cafeteria-part-marvel-of-a-restaurant-chain to being quite fascinated - some would even say a bit smitten. (I have gone so far as to make it a regular setting in Project ID - it deserves it!) But this book
doesn't simply tell the story of the Automat - it offers a slice of history from a unique point of view, and gives yummy, top-quality Automat recipes. Don't just read the history, taste it too!
The Automat was a magical place that, unfortunately, now exists only in the memories of workers and patrons. It's a sad ending, but worth the read.
So Google the Automat to whet your appetite, and then check out
The Automat
by Diehl & Hardart from your local library. It's a thin book and tons of fun to read.
Scribble Rating:
4 of 5 Scribbles