It's time again for WWW Wednesday, brought to us by MizB at
Should Be Reading
. The three questions:
What are you currently reading?
What did you recently finish reading?
What do you think you'll read next?
I am currently reading
Demonglass
by Rachel Hawkins, the sequel to
Hex Hall
. It's not the greatest series, but it's a good paranormal read.
I believe the last book I finished was
Eat-Man
Volume 1 by Akihito Yoshitomi. It's a classic Japanese manga that I discovered at the library. It's actually pretty good, with a very original character. Each chapter is a stand-alone adventure.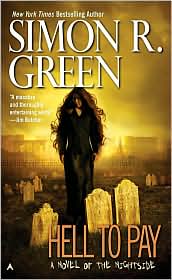 I want to say that my next book will be
The Unwanteds
by Lisa McMann, but instead it will probably be
Hell to Pay
by Simon Green, the seventh book in the Nightside Series. I'm finding myself a little tired of teen books again, so it's back to adult fantasy paperbacks for me.
What are you reading right now?