As promised at the end of my review of The Testing yesterday (which you can find here), the amazing Joelle Charbonneau has graced me with an interview! Read on to discover the spark that created The Testing, why Homeland Security may have her on their watch list, the best piece of writing advice she's taken, and of course her Testing Love List!
Joelle Charbonneau
Ms. Charbonneau's Bio
Joelle Charbonneau began telling stories as an opera singer, but these days she finds her voice through writing. She lives near Chicago with her husband and son and when she isn't writing, works as an acting and vocal coach.
The Testing
, a debut novel in a trilogy, is her first book for young adults.
You can find her online at any of these locations:
THE BOOK
The Testing (The Testing Series, Book 1)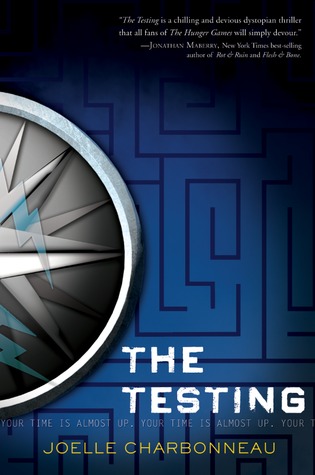 Keep your friends close and your enemies closer. Isn't that what they say? But how close is too close when they may be one in the same?
The Seven Stages War left much of the planet a charred wasteland. The future belongs to the next generation's chosen few who must rebuild it. But to enter this elite group, candidates must first pass The Testing—their one chance at a college education and a rewarding career.
Cia Vale is honored to be chosen as a Testing candidate; eager to prove her worthiness as a University student and future leader of the United Commonwealth. But on the eve of her departure, her father's advice hints at a darker side to her upcoming studies--trust no one.
But surely she can trust Tomas, her handsome childhood friend who offers an alliance? Tomas, who seems to care more about her with the passing of every grueling (and deadly) day of the Testing. To survive, Cia must choose: love without truth or life without trust.
Again, you can find my review of this book here,
and links to purchase
The Testing
are below!
Barnes & Noble
Amazon
Changing Hands
And now...
THE INTERVIEW!
1. What was the initial spark that created The Testing? (If you remember. :)
Funny, but I remember this moment really well. I teach voice lessons. A lot of my students are high school students who are hoping to continue studying musical theater or opera in college, so I work closely with them as they go through their college board tests, fill out their applications and get ready for their auditions. Getting into the top colleges has gotten harder every year and two years ago, I remember telling a student that the process was more difficult than I'd ever seen it. She worried about how much worse it would get by the time the freshman she knew were seniors and I told her that I didn't believe it could get any worse. That was the moment in which I wondered - what could be worse? What could the tests our high school students take to get into college turn into if a society couldn't afford to pick the wrong leaders? That's when I knew I had to write The Testing.
2. What were some of the subjects you researched for The Testing?
OMG! I'm hoping Homeland Security hasn't been monitoring my research or I'm on their watch list for sure. Because my future world was shattered by chemical and biological warfare (not to mention massive natural disasters), my research made me delve into all the terrible poisons and chemicals that militaries around the world have developed into weapons. I also did a lot of research into antidotes that could neutralize those poisons.
3. If you were chosen for The Testing, what group would you be put in (star, heart, triangle, etc.) and why?
To be honest, I doubt I would be chosen for The Testing, but hey, stranger things have been known to happen. As a former professional musical theater and opera performer I'm pretty sure I'd be a triangle, which is the group for the more artistic-minded people. Which would be good because I'm not always the most mechanically inclined person around.
4. Be honest - how far do you think you'd get in The Testing?
Um...well, I guess it depends on how they score the first round of tests. If I did land in the triangle group, less emphasis would be given to my math and science scores. Phew! History, reading and writing would definitely be my strengths. So, I'm feeling pretty confident on that curve grading scale I'd make it to round two. That's where my confidence in my own skills end. Especially if anything calculus-related appears. Me and high school calculus did not get along at all!
5. What is the best piece of writing advice you've taken?
Hmmm...I think the best writing advice I ever received was from Susan Elizabeth Phillips. (She is an amazing lady and her comedic romances are incredibly entertaining! If you haven't read them, you should. And if you like football you REALLY should.) Susan told me to join Romance Writers of America...more specifically the local chapter near where I lived to which she also belonged. I don't write romance, but joining that group was the best thing I could have ever done. They meet twice a month and at every meeting at least one author reads 20 pages of their work aloud and is then critiqued by the attending members. It is amazing what you can learn about your own writing from studying other people's work. I could spot mistakes that I was making by seeing them in other stories. Good storytelling transcends genre and I am certain I would never have gotten published had it not been for the lessons I learned from the amazing writers I was fortunate enough to associate with.
6. Joelle Charbonneau's The Testing Love List:
The new potato Zeen created

Corn cakes (Creepy, I know. But I can't help it.)

The Transit Communicator

Tomas's dimple (Who doesn't love dimples?)

The countdown clock

"They didn't wish us luck"

The University (which is actually based on Wichita State University)

Stacia - who is named after my literary agent (True story...you can see her name in the dedication of the book. She is awesome.)

Cia's birthday present - I'll leave it to you to decide what I mean by that.
And there you have it! I want to thank Ms. Charbonneau for doing this interview for me - she took time out of her horribly busy schedule to answer my questions, and I greatly appreciate it!
THE GIVEAWAY
I was lucky to get an extra ARC of
The Testing
, along with some awesome swag! Enter the Rafflecopter form below for the chance to win the ARC, a bracelet, and two temporary tattoos. Good luck!
(Apologies to my international Followers, but this giveaway is U.S. only.)
a Rafflecopter giveaway