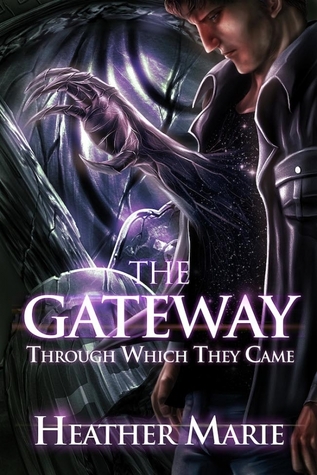 Title: The Gateway Through Which They Came
Author: Heather Marie
Release Date: August 25, 2014
Publisher: Curiosity Quills Press

Summary:
To seventeen-year-old Aiden Ortiz, letting the dead walk through his body to reach the other side comes with the territory. Being a Gateway isn't an easy job, but someone's gotta send Bleeders where they belong. Heaven. Salvation. Call it whatever you want. Dead is dead. But when his search for Koren Banks––the girl who went mysteriously missing seven months ago––leaves him with more questions than answers, he finds himself involved in something far more sinister and beyond his control.
With the threat of the Dark Priest's resurrection, and his plan to summon his demon brothers from hell, Aiden is left to discover his identity before the Dark Priest's curse infecting his blood consumes him, and before the world as he knows it succumbs to the darkness of hell on earth.
Heather Marie lives in Northern California with her husband, and spends the majority of her time at home reading. Before she followed her dreams of becoming a writer, Heather worked as a hairstylist and makeup artist for several years. Although she enjoyed the artistic aspect of it all, nothing quite quenched her creative side like the telling of a good story. When the day had come for her to make a choice, she left behind her promising career to start another, and never looked back.

THE INTERVIEW
Summarize
The Gateway Through Which They Came
in one sentence:
Aiden Ortiz is a Gateway for the dead, but his gift becomes a curse when the Dark Priest's resurrection threatens to bring hell on earth, and leaves Aiden wondering which side he's truly on.
What was the initial spark that created
Gateway
?
I've mentioned this once before, but Ghost Adventures is the spark to quite a few of my ideas. The night was just a typical Saturday, and I was living alone at the time. I can't remember how many episodes I had watched, but I'm sure it was several. Most of the time I do a marathon, until I'm thoroughly freaked out. And on this particular night, I want to say it was something about the investigation. The place and their surroundings, the story behind it. The idea for Gateway—a boy who passed the dead through his body—popped into my mind. The what, why, and how, came shortly after.
What were some of the subjects you researched?
Honestly, most of the things I researched was that of the church written within the book. I don't describe myself as a religious person, seeing as I've been to maybe four churches in my entire life. It was important for me to have Gateway based, for the most part, within and/or surrounding a church. I didn't want to get anything wrong, because this is incredibly important to a lot of people, so I was sure to do as much research possible to get it right. I also had several people read it that I knew could help me get everything how it should be. I just hope it was enough.
Who was your favorite character to write, and why?
As much as I love Aiden as a character, I freakin' adore his best friend, Trevor. He's just so genuine and kind-hearted. He's someone I wish I had as a best friend. Always loyal. Always brave. I kind of feel like I'll miss him the most when the series is over.
Gateway
is told from a male point of view (
Aiden Ortiz
). As a female writer, were there any tricks you used to make Aiden's voice more authentic?
I've been a tomboy my whole life. I grew up around the boys. I skated with the boys. I acted like one of the boys to the point where I think some people thought I was a boy. Finding Aiden's voice is a lot easier for me than writing a female voice. Weird, I know. A part of me feels like I can be a little more real with Aiden. Like his brain and my brain are the same. He just… gets me.
What's your favorite line/passage in
Gateway
?
Ooh. Gosh. I've never been asked this question. This is a tough one. I'd have to say when Aiden discovers that being a Gateway isn't all it's cracked up to be. He's trying to be a normal kid when so much is happening, that when he tries to do his English homework he gets fed up and says, "I don't know what this Hamlet guy is so worried about." LOL. I can't read that line without busting up. Actually, I remember my editor texting me right after she read it and saying she wanted that line on a shirt. We might have to make this happen.
Heather Marie's The Gateway Through Which They Came Love List Top 3
I love the relationship between Aiden and his mother. At first, their relationship was really awful. I don't know why I made her so angry in the first draft, but I'm so glad I reconsidered. Their relationship, I feel, is what makes Gateway.

Aiden's best friends, Evan and Trevor, are absolutely hilarious together. They're like two peas in a pod. There were several times during the drafting process that I found myself laughing out loud to their bickering. But, also, the three of them together are fantastic. Lots of love and loyalty going on there.

Gateway would be nothing without the Bleeders! Ooh, those poor people. I really made them grotesque and they must hate me for it. haha
Gateway
is the first book in a series. How many books will there be, and what can you tell us about the series as a whole?
Hmm… I can't say much only because nothing has been finalized. It's no secret that I wrote book two, but there are a lot of deciding factors still in the works. I can say that book two will bring some new hilarious characters, and, of course, some Bleeder mischief. I think that people will enjoy the new twists and turns I put Aiden through. I just hope they get a chance to read about it!
And that's it! My thanks to Ms. Marie for the awesome interview! :)