Today I spotlight the new Sci-fi horror from Courtney Alameda: PITCH DARK! I'm typically not one for horror but I thoroughly enjoyed her debut, SHUTTER (review link at bottom), so I've been looking forward to her next story with great anticipation! If you haven't yet heard of this spooky title, check it out below!
--------------------------------------------------------------------------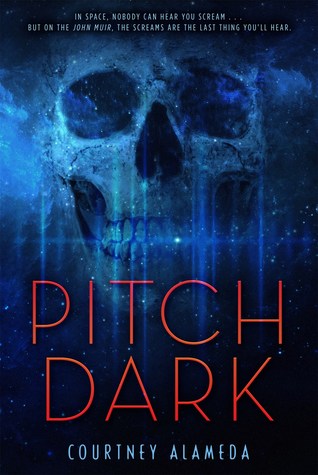 Title: Pitch Dark
Author:
Courtney Alameda
Publisher: Feiwel & Friends
Release Date: 2/20/18
Set against a future of marauding space scavengers and deadly aliens who kill with sound, here is a frightening, fast-paced YA adventure from the author of the acclaimed horror novel,
Shutter
.
Tuck has been in stasis on the
USS John Muir
, a ship that houses Earth's most valued artifacts—its natural resources. Parks and mountains are preserved in space.
Laura belongs to a shipraiding family, who are funded by a group used to getting what they want. And they want what's on the
Muir
.
Tuck and Laura didn't bargain on working together, or battling mutant aliens who use sound to kill. But their plan is the only hope for their crews, their families, and themselves.
In space, nobody can hear you scream . . . but on the
John Muir
, the screams are the last thing you'll hear.
Add to Goodreads
PURCHASE:
Amazon
|
B&N
|
Indiebound
|
Book Depository
Check out Courtney's horror debut!