Today I spotlight a long-awaited sequel, and a thrilling new sci-fi!
The first is the second book in the Glitter duology by Aprilynne Pike: SHATTER! I just finished it yesterday and thoroughly enjoyed the easy and engrossing end. If you haven't yet tried the Ni-Fi duology, I highly recommend it for a binge!
The second is HONOR AMONG THIEVES by Rachel Caine and Ann Aguirre. I managed to lay hand
s and eyes on an early ARC and found it a

n engrossing and exhilarating teen sci-fi with a kickass female lead and sweet but strong sentient ship. If you enjoy sci-fi, it's not to be missed!
If you haven't yet checked out these titles, see below for more info and order links!
--------------------------------------------------------------------------
Title: Shatter
Series: Glitter Duology #2
Author: Aprilynne Pike
Publisher: Random House
Release Date: 2/13/18
Danica planned to use beauty, blackmail, and a glittering drug to control her own fate. Her escape from the twisted world of the Palace of Versailles was perfectly orchestrated and paid for. Or so she thought.
Betrayed by the man who had promised her freedom, Dani is now married to the murderous King. It's a terrifying position to be in...and yet it's oddly intoxicating. Power may be an even stronger drug than Glitter--a drug Dani can't resist, in the form of secrets, manipulation, and sabotage.
In her new position at the head of the court, Dani must ask herself who she really is. Can she use her newfound power to secure her real love, Saber's freedom and a chance at a life together outside the palace? Or is being Queen too addictive to give up?
Add to Goodreads
PURCHASE:
Amazon
|
B&N
|
Indiebound
|
Book Depository
Check out the first book!
Book 1: Glitter
Goodreads
|
Amazon
|
B&N
|
Indiebound
|
Book Depository
--------------------------------------------------------------------------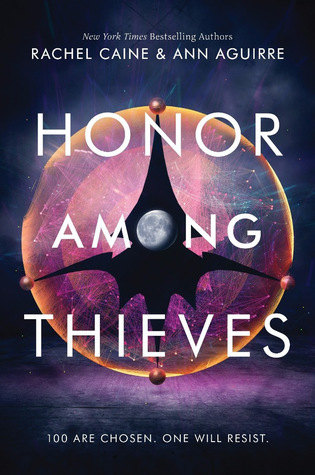 Title: Honor Among Thieves
Series: The Honors #1
Author: Rachel Caine & Ann Aguirre
Publisher: Katherine Tegen Books
Release Date: 2/13/18
Petty criminal Zara Cole has a painful past that's made her stronger than most, which is why she chose life in New Detroit instead moving with her family to Mars. In her eyes, living inside a dome isn't much better than a prison cell.
Still, when Zara commits a crime that has her running scared, jail might be exactly where she's headed. Instead Zara is recruited into the Honors, an elite team of humans selected by the Leviathan—a race of sentient alien ships—to explore the outer reaches of the universe as their passengers.
Zara seizes the chance to flee Earth's dangers, but when she meets Nadim, the alien ship she's assigned, Zara starts to feel at home for the first time. But nothing could have prepared her for the dark, ominous truths that lurk behind the alluring glitter of starlight.
Add to Goodreads
PURCHASE:
Amazon
|
B&N
|
Indiebound
|
Book Depository