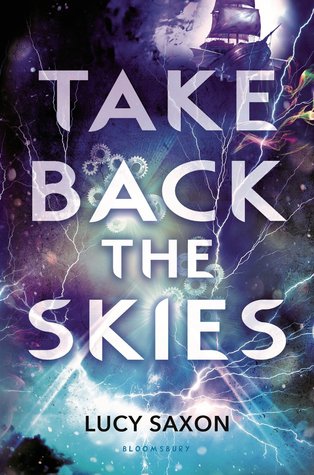 Title: Take Back the Skies
Author: Lucy Saxon
Release Date: June 3, 2014
Publisher: Bloomsbury USA Childrens

Summary:
Catherine Hunter is the daughter of a senior government official on the island of Anglya. She's one of the privileged – she has luxurious clothes, plenty to eat, and is protected from the Collections which have ravaged families throughout the land. But Catherine longs to escape the confines of her life, before her dad can marry her off to a government brat and trap her forever.
So Catherine becomes Cat, pretends to be a kid escaping the Collections, and stows away on the skyship Stormdancer. As they leave Anglya behind and brave the storms that fill the skies around the islands of Tellus, Cat's world becomes more turbulent than she could ever have imagined, and dangerous secrets unravel her old life once and for all . . .
Lucy Saxon has always loved reading, but her love of writing began at the age of 12 when she first suffered from the neurological disorder ME (chronic fatigue syndrome). She found herself missing lengthy periods of school, giving her the opportunity to indulge in creative writing. TAKE BACK THE SKIES is her debut novel. It was inspired by a dream and Lucy submitted a version of it to the National Novel Writing Month's online competition. Lucy can often be found attending comic and fantasy conventions and ALWAYS makes her own, very impressive costumes.
Summarize Take Back the Skies in one sentence:
A girl realises that her life is ridiculously sheltered, and reacts rather drastically to the truth.
What was the initial spark that created Skies?
I had a sort of half-dream of a girl in Victorian clothing on a steampunk skyship, and when I woke up I immediately wrote it down, going with that to develop the plot of Skies and the world of Tellus itself.
How long did it take you to write the first draft? Did you use an outline, or discovery-write it?
I wrote the entire first draft during NaNoWriMo 2011, so a month (or a little under, I finished a few days early). I had a vague outline, but I tend to deviate from my plans quite a lot. I never plan the ending, either, as that's a surefire way to make sure whatever I've planned doesn't happen. So I'll plan up to a certain point, and usually by the time I get there I know what the ending will be.
Who was your favorite character to write, and why? Who was your least favorite and why?
I really loved writing Ben! A lot of the stuff I wrote for him didn't stay in the final draft because of wordcount, but I just really love his character, and his voice was very easy for me to find. I can't really say why specifically, but he just clicked for me. Least favourite was probably Nathaniel. It took me a while to get his voice right, and even then it felt a little forced for me for quite a while. He's a hard character to pin down.
What is your favorite line/passage in Skies?
Oooh, that's a tough one. Also, trying to be spoiler-free is hard! I can't think of a specific line, but I really like the bit where Cat is giving the speech over the newscast after a certain big event has happened. I just think it's a very powerful scene for her.
What were some of the subjects you researched?
It being a fantasy novel, there wasn't actually that much to research! I had to look up plenty of small facts here and there, but I can't think of anything I had to properly sit down and research. Obviously I read up on steampunk and broadened my knowledge of that a bit, but again, it's fairly open to interpretation depending on the world it's set in.
Were there any particular songs/albums/soundtracks that inspired you while writing Skies?
I don't tend to match my music to my writing, unlike a lot of authors! I just put my iTunes on shuffle and let whatever turns up play. The Legend of Zelda 25th Anniversary OST was great for some of the more dramatic scenes though!
As a huge cosplayer, do you plan to cosplay any of your characters? If so, who? (And if you already have and there are pictures, can we see? ;)
I do plan on cosplaying my characters! I plan on having a whole group together for Sunday of LFCC; I'll be cosplaying Fox. No pictures yet because I've been so busy I haven't even started yet, but when I do there'll be plenty of pictures up on my Tumblr and also my cosplay Facebook page!
Lucy Saxon's Take Back the Skies Love List
Ben. Basically everything about Ben.

Fox defiantly trying to stay grumpy every time Cat amuses him in the middle of an argument.

The first glimpse we get of the shipyard.

The relationship between Harry and Alice, which doesn't get shown as much as I'd perhaps like it to, but it's always clear how much they love each other.

Fox's hair.

I finally got to use the name Nathaniel. I've wanted to use that name for

years

.
Take Back the Skies is the first in a six-book series, each book "set in a different land within the Tellus world, with repeating characters and related, nonlinear storylines." Can you tell us a little more about what we can expect with this epic series?
A lot of interesting and diverse characters, plenty more skyships, and a lot of insight into how the world of Tellus developed and will continue to develop. Any more than that would be telling! ;)
And that's it! My thanks to Lucy for the awesome interview! :)
THE GIVEAWAY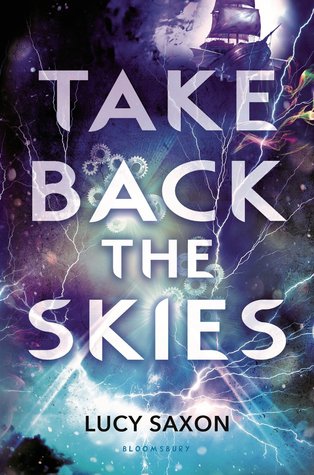 Bloomsbury has graciously provided a copy of the book!
Enter below to win - good luck! :)
US Only | Must be 13+ years to enter
(Cheaters do not prosper here -
be warned I check
every
entry!)
a Rafflecopter giveaway
And be sure to check out the rest of the tour!