Welcome to The #FridayReads Review, a regular Friday segment where I share what I've been reading the past week, and what I'm planning to read next! Want to join the Friday fun? Post your own #FridayReads Review and leave the link in the Comments below, or just Comment with what you've been reading!
>> CURRENTLY READING <<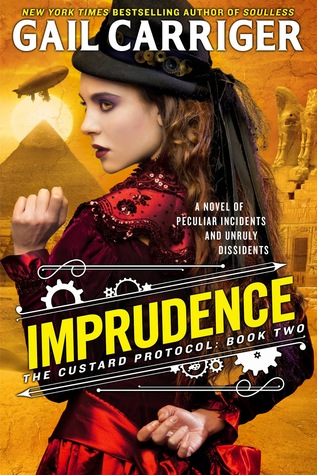 Imprudence by Gail Carriger (ARC)
While Gail is my favorite author, I have to be in the right mood to read one of her books (I'm really like that with most books, actually). Thankfully the mood finally hit me to pick up this sequel, so of course I lunged for it! No surprise I am thoroughly enjoying the return to the eccentric characters, entertaining world, and witty writing that I know and love.
Shadow Run by Strickland & Miller (ARC)
4 Stars
.
While the first 50 pages were sadly slow, a few unexpected twists led to some amazing action and thrills despite long bouts of inaction in between. Great characters, interesting sci-fi setting, eventually engaging writing. The end was a little soft for me, but I will definitely be trying the next book in the series. Review to come.
>> READING NEXT <<
Glitter by Aprilynne Pike (ARC)
Soon my pretty, soon...
So what are you reading this week?