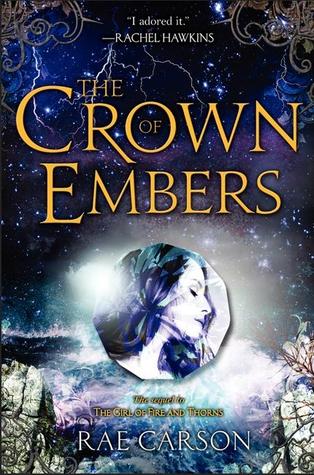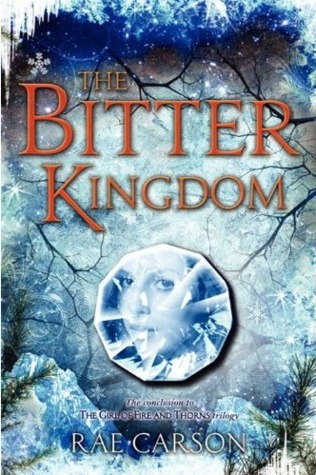 Titles
: The Crown of Embers | The Bitter Kingdom
Series
: Fire & Thorns Trilogy, Books 2 & 3
Author
: Rae Carson
Publisher
: Greenwillow Books (HarperCollins)
Release Date
: September 18, 2012 | August 27, 2013
Genre
: Young Adult Action-Adventure Fantasy
Told
: First Person (Elisa), Present Tense
Content Rating
: Older Teen (violence, minor gore, sensuality)
Format Read
: Paperbacks (purchase)
Find & Purchase Book 2 On
:
Goodreads | Amazon | B&N | Book Depository
Find & Purchase Book 3 On
:
Goodreads
|
Amazon | B&N | Book Depository
Book 2 Summary
:
She does not know what awaits her at the enemy's gate.
Elisa is a hero.
She led her people to victory over a terrifying, sorcerous army. Her place as the country's ruler should be secure. But it isn't.
Her enemies come at her like ghosts in a dream, from foreign realms and even from within her own court. And her destiny as the chosen one has not yet been fulfilled.
To conquer the power she bears, once and for all, Elisa must follow a trial of long-forgotten—and forbidden—clues, from the deep, hidden catacombs of her own city to the treacherous seas. With her go a one-eyed spy, a traitor, and the man whom—despite everything—she is falling in love with.
If she's lucky, she will return from this journey. But there will be a cost.
* * *


In a Sentence
: A thrilling two-part travel adventure that expands the world of the first book and concludes a stellar fantasy trilogy.
After really enjoying Book 1,
The Girl of Fire and Thorns
(see my review
here
), I was excited to continue what I thought of as "the further adventures of Elisa" with the rest of the Fire & Thorns trilogy. As Books 2 & 3 turned out to be rather Parts 1 & 2 of the same story - with a cliffhanger at the end of Book 2 that slid almost immediately into Book 3 - I decided to review them together.
Where Book 1 was about Elisa finding the strength in herself to rule, Books 2 & 3 are the story of a girl who would be queen, struggling to rule and protect her people as best she can while dealing with court politics and trying to solve the mystery of her power. Set mainly on an epic road trip that expands the fantasy world into unknown reaches above and below by visiting lost islands and abandoned tunnels and venturing deep into enemy territory, these books are definitely travel adventures at their heart as Elisa and friends are almost constantly on the move rescuing people and places and saving the day even as they dig themselves deeper into danger and intrigue.
STRENGTHS
While Book 2 most certainly connects and continues the first book, due to the "further adventures of Elisa" aspect there was absolutely no Middle Book Syndrome!
The immersive writing style I loved in Book 1 continued in these and brought the world and movement to life with vivid description that didn't shy away from the grit and sweat of real living.
Main character Elisa remained the amazing and highly relatable young woman I came to know and root for in Girl of Fire and Thorns. Also highly relatable and interesting were the secondary characters, and I grew to love every one of them (especially Red, but who couldn't love Red I mean c'mon).
The romance was a strong thread woven through the two books but it didn't dominate in any way, instead acting as a kind of breather here and there amidst all the action and an emotional undercurrent for Elisa and Hector. When it finally came to its climax it was (to my happiness) rather mild and faded to black at the proper moments.
The end was strong and sweet and fitting. Even with a lot of tragedy weighing them down most got a happy ending, and their lives continued right past the last page into greater adventures.
WEAKNESSES
The story was 90% action, 7% romance, and 3% emotional depth, which left little time to ponder the emotions and intelligence that drove the action. While so much action made for a fast-paced and thrilling read, I really would've liked a bit more depth to the otherwise straight adventure story.
While I knew Elisa was smart and resourceful based on the first book, in these I was told instead of shown the thought process behind her brilliant plans. It made me feel left out, and left the story with very little depth to hold the string of miniature adventures together.
Several times in passing there was mention of Elisa's people coming to planet Inverno after theirs was destroyed, hinting that there is a sci-fi origin story to the fantasy setting. I was thrilled with the hope that it would be expanded, and highly disappointed when it wasn't. Sequel series?
Conclusion
: While I would've liked more depth,
The Crown of Embers
and
The Bitter Kingdom
were adventurous reads with lots of exciting action and magic and a sweet romance. If you enjoyed
The Girl of Fire and Thorns
and wanted more, these are most definitely worth picking up.
Series Conclusion
: As a whole, the trilogy is a solid fantasy adventure read with highly relatable characters, vivid description, and a thrilling story. If you enjoy fantasy, you cannot miss this series.