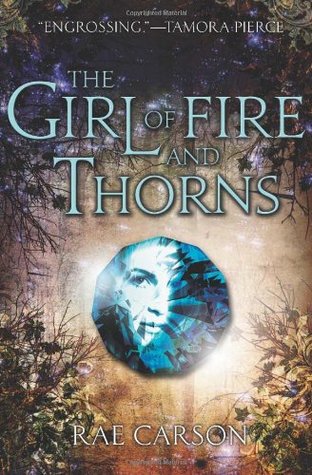 Title
: The Girl of Fire and Thorns
Series
: Fire & Thorns, Book 1
Author
: Rae Carson
Publisher
: Greenwillow Books (HarperCollins)
Release Date
: September 20, 2011
Genre
: Young Adult Fantasy
Told
: First Person (Elisa), Present Tense
Content Rating
: Older Teen (violence)
Format Read
: ARC (EpicLibrarian)
Find On
:
Goodreads
Purchase On
:
Amazon | B&N | Book Depository
Summary
:
Once a century, one person is chosen for greatness.
Elisa is the chosen one.
But she is also the younger of two princesses, the one who has never done anything remarkable. She can't see how she ever will.
Now, on her sixteenth birthday, she has become the secret wife of a handsome and worldly king—a king whose country is in turmoil. A king who needs the chosen one, not a failure of a princess.
And he's not the only one who seeks her. Savage enemies seething with dark magic are hunting her. A daring, determined revolutionary thinks she could be his people's savior. And he looks at her in a way that no man has ever looked at her before. Soon it is not just her life, but her very heart that is at stake.
Elisa could be everything to those who need her most. If the prophecy is fulfilled. If she finds the power deep within herself. If she doesn't die young.
Most of the chosen do.
* * *

In a Sentence
:
An engrossing read with a relatable main character, vivid description, diverse world, and intense religion, even if the magic was rather weird.
With the entire Fire & Thorns trilogy sitting on my shelf, I randomly grabbed this last year without really recalling what it was about and dove right in. Happily I was rewarded with a dazzling adventure!
STRENGTHS:
Elisa. Elisa was one of the best main characters I've ever read. While she could be material and self-deprecating, she had a strong and caring heart and a sharp mind. Her flaws made her highly relatable and real, one of the most real characters I've read, and her strengths made her admirable and worth rooting for.

The diversity. Although a fantasy, it seemed to be based around a kind of Hispanic culture, especially in language and religion. So refreshing!

The religion. The heavy religious aspect was also a pleasant surprise, and I loved how it was front and center through it all without being heavy-handed.

The setting and description. The story took place in desert and jungle regions which made for raw description that wasn't afraid to get real with sweat and grit and the discomfort of it all. It pulled me into the story so deep

I felt like I was there, and I had a hard time pulling out when I had to put the book down.
WEAKNESSES:
The romantic emotion. Elisa struggled with her feelings for two men in this book, but I never really felt her affection for either of them. While her feelings for her friends and family came through, there was an emotional disconnect with romantic matters for me. I personally didn't consider this a bad thing, but my indifference did considerably lessen the thrill and tension of several romantic and tragic moments in the story.

The magic. I love all kinds of magic and revel in new forms of it, but this... it was just weird. I mean, a power stone in her bellybutton? I eventually came to terms with it, and loved how it reacted to her prayers, but the more she learned about the Godstones the weirder things got until the end saw me reading with one eyebrow raised through the entire climax. I think it was a matter of elegance: the world, the writing, even the raw but carefully crafted description had a sense of elegance to them. The magic did not, climaxing in the category of ridiculous for me that did not balance with the most definitely elegant religion it was paired to. The idea of the stone was elegant - how it was used was not.
Series Note
: This book encompasses a full story arc with resolution, and could be read alone without needing to continue the series. The prospect of more adventures with Elisa definitely interested me though, and I immediately reached for the next book:
The Crown of Embers
.
Conclusion
: An engrossing fantasy of diversity and religion that I highly recommend for fantasy fans!