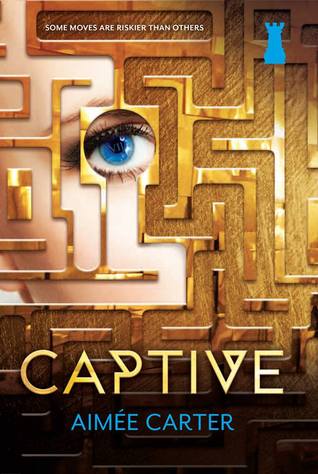 Title: Captive
Series: The Blackcoat Rebellion trilogy, Book 2
Author: Aimée Carter
Publisher: Harlequin Teen
Release Date: November 25, 2014
Genre: Young Adult Dystopian
Content Rating: Older Teen (some language, brutal violence, abuse, sensuality, minor sex)
Format Read: ARC (publisher)
Find It On: Goodreads
Summary:
For the past two months, Kitty Doe's life has been a lie. Forced to impersonate the Prime Minister's niece, her frustration grows as her trust in her fake fiancé cracks, her real boyfriend is forbidden and the Blackcoats keep her in the dark more than ever.
But in the midst of discovering that her role in the Hart family may not be as coincidental as she thought, she's accused of treason and is forced to face her greatest fear: Elsewhere. A prison where no one can escape.
As one shocking revelation leads to the next, Kitty learns the hard way that she can trust no one, not even the people she thought were on her side. With her back against the wall, Kitty wants to believe she'll do whatever it takes to support the rebellion she believes in—but is she prepared to pay the ultimate price?

This is Book 2 in The Blackcoat Rebellion trilogy.
You can read my review of Book 1,

Pawn,

here!

In a Sentence: Another quick read in an intense dystopian trilogy!

While it did begin a bit slow for me, with the first few chapters reading more like a recap prologue, the shift to the brutal Elsewhere brought exciting new characters and twists that expanded the story with big revelations and even bigger possibilities for the final installment. The new setting also escalated the violence and intensity in this book. I cringed quite a bit as the worst was threatened at every turn, and like a game of Russian Roulette you never knew when the gun would actually go off - and it did quite a bit. This made for a tense and sometimes heart-wrenching read that is definitely not for the faint of heart.

I did have a problem with Kitty this time, though. She's an ordinary girl given constant opportunities to do extraordinary things, but in this book she rarely took them or seriously messed them up when she did by continually trusting the wrong people and not trusting the right ones enough. I guess this made her realistic, but the girl

never

seemed to do much of anything right, and it got a little old. Still, her loyalty to her long-time boyfriend and even her new friends was fierce, and almost everything she did was for the good of others, which was commendable.

Conclusion: While the beginning stumbled a bit and the main character frustrated me at times, the new setting and intense story made for a violently engaging read. I look forward to the final installment in this series later this year!
Rating: