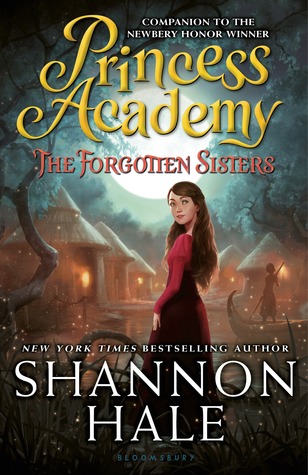 Title
: The Forgotten Sisters
Series
: Princess Academy trilogy, Book 3
Author
: Shannon Hale
Publisher
: Bloomsbury USA Childrens
Release Date
: March 3, 2015
Genre
: Middle Grade Fantasy
Content Rating
: Middle Grade (kissing, fighting)
Format Read
: ARC (publisher)
Find It On
:
Goodreads
Summary
:
After a year at the king's palace, Miri has learned all about being a proper princess. But the tables turn when the student must become the teacher!
Instead of returning to her beloved Mount Eskel, Miri is ordered to journey to a distant swamp and start a princess academy for three sisters, cousins of the royal family. Unfortunately, Astrid, Felissa, and Sus are more interested in hunting and fishing than becoming princesses.
As Miri spends more time with the sisters, she realizes the king and queen's interest in them hides a long-buried secret. She must rely on her own strength and intelligence to unravel the mystery, protect the girls, complete her assignment, and finally make her way home.
* * *
Guest Review by Indigo
In a Sentence
:
I love this book so much because it is fun, it has adventure, and it has romance - basically, all of the stuff I like.
Series
:
This is the last book in the Princess Academy trilogy. I love the Princess Academy books so much I wish Shannon Hale wrote ten books in the series, but there are only three.
Writing
:
I've always loved Shannon Hale's writing. I love the way she puts the words together and knows exactly where to put this word and where to put another word, so all the words fit into the exact right place and make her books amazing. There were some times when I could not picture what was happening, but it was pretty easy to picture most things. I had a very hard time putting this book down because at the end of almost every chapter there was something new that was really exciting, and so I just kept reading more and more. I read through the whole book in about two days, which is really fast for me!
Series End
:
After The Princess Academy and Palace of Stone
(Books 1 & 2), I was very interested in seeing how Miri's story would end. I think Shannon Hale did a great job of ending the series, especially Miri and Peder's story, and I liked the ending better than I thought I would. I just didn't like how she made it look like they just forgot about King Kaspar and the princesses, because they were a very important part of the story.
Characters
:
Miri is one of my favorite characters because she goes places where the King tells her to go, even when she doesn't want to, because she loves adventures. Peder is also one of my favorite characters because he's always romantic and always energetic. He's always pretending to be clueless around Miri, and yet Miri knows he's not really clueless and sees right through him. He saves as many people as he can, but mostly he tries as hard as he can to protect Miri by going with her. Sometimes Miri will tell Peder that he can't protect her, and he will listen, but he can't help wondering if she is safe. Peder is just totally awesome. As for the princesses, Astrid is not at all tame but usually she's pretty calm and I loved how she is always taking care of her sisters. Felissa is very emotional but she is almost always smiling which I love, and Susana is always hyper and I am sort of hyper myself, so I really liked her. When she meets a kid with a sword, she wants to swing it around like he does. I liked the princesses because they always work together to get stuff done. They don't wait around for someone else to do it, because nobody would. They have to do stuff themselves.
Romance
:
There is a lot of romance throughout the book, but it is a happy romance, and after two books already it's good to see Miri and Peder happy. When they are together, they sometimes forget that people are around them, and when they do that, sometimes they kiss right in front of people. Or they might be in their daze and not notice they are talking so quietly that they have to have their foreheads almost touching so they can hear each other. It's really cute.
Conclusion
:
This book is probably my favorite Shannon Hale book ever, even though so far, all of her books that I have read are amazing. I'd really hoped that there would be more Princess Academy books, and I was really sad to hear that this was the last one. But it's okay, because I still have other Shannon Hale books to read!
For fans of
:
romance, adventure, tutoring, swamps, princess, bandits
Indigo is nine years old and lives on her
family's farm
with her seven siblings, making
goat milk soap
and shipping it around the world. When she's not
running the retail store
,
making bracelets to sell
, or doing her schoolwork, you can find her curled up on the couch reading her latest favorite book. It will most likely involve princesses, magic, or dragons, and will always have a kick-butt girl in it.