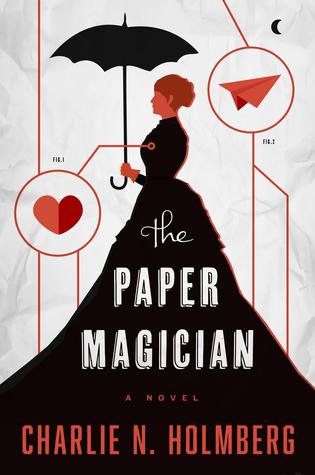 Title
: The Paper Magician
Series
: The Paper Magician Trilogy #1
Author
: Charlie N. Holmberg
Publisher
: 47North (Amazon)
Release Date
: September 1, 2014
Genre
: Adult Alternate Historical Magical Realism
Content Rating
: Older Teen (Pages 1-130: violence, some language)
Format Read
: Paperback (purchased)
Try It Again?
: Yes
Find It On
:
Goodreads
Summary
:
Ceony Twill arrives at the cottage of Magician Emery Thane with a broken heart. Having graduated at the top of her class from the Tagis Praff School for the Magically Inclined, Ceony is assigned an apprenticeship in paper magic despite her dreams of bespelling metal. And once she's bonded to paper, that will be her only magic…forever.
Yet the spells Ceony learns under the strange yet kind Thane turn out to be more marvelous than she could have ever imagined—animating paper creatures, bringing stories to life via ghostly images, even reading fortunes. But as she discovers these wonders, Ceony also learns of the extraordinary dangers of forbidden magic.
An Excisioner—a practitioner of dark, flesh magic—invades the cottage and rips Thane's heart from his chest. To save her teacher's life, Ceony must face the evil magician and embark on an unbelievable adventure that will take her into the chambers of Thane's still-beating heart—and reveal the very soul of the man.
* * *
DNF REVIEW
(Chapter 10, Page 130 of 214)
While it began interesting enough, my attention waned around the one-third mark until I sadly lost all interest at Chapter 10. Ceony's arrogance and self-pity were a bit off-putting at first, but as her opinion of Thane and paper magic changed, she grew on me. Paper magic is my favorite kind of magic, and here it was intriguing with original elements that I enjoyed, even if the lessons could be a little dull. It had a bit of a
Howl's Moving Castle
vibe so I eventually got quite into it, but once Ceony entered Thane's heart my enjoyment steadily declined. Overall I'm not really sure what happened - it should've been interesting for me, but it just wasn't. I will be holding onto my copy though, and plan to try it again.