Welcome to my stop on The Inquisition Blog Tour! Today I'm excited to welcome author Taran Matharu for a special guest post on the mythical creatures of The Inquisition, the second book in his Summoner series. See below for more information about The Inquisition, as well as links for the previous books in the series, and enter to win copies of both Books 1 and 2, as well as signed bookplates, at the end!


* * *
MYTHICAL CREATURES IN
THE INQUISITION
In the Summoner series, summoners must capture demons using portals between the demon world (the Ether) and their own. These demons become their familiars, and are also their owner's source of mana (energy used for performing spells). Young summoners are trained at Vocans Academy, until they graduate as battlemages and become officers in the army, join the Celestial Corps (demon riding pilots) or join the Dragoons (demonic cavalry). Below are just a few of the demons that appear in
The Inquisition
, released on May 10
th
in North America.
Damsel - Level 3 (Verity Faversham)
An insect-like demon akin to a giant dragonfly, with an iridescent carapace and four wings. These deceptively fast creatures are highly manoeuvrable in the air, capable of changing direction on a penny. They are a close cousin to the Mite, with a sting that is three times as potent. These demons are common throughout the known ether.
Kamaitachi - Level 3
A demon that appears similar to a large fanged weasel, with serrated bone-blades replacing its paws. Relatively common in the orcish part of the ether, these expendable demons are regular attackers of Hominum's frontlines.
Appearing much like an overgrown wasp or bee, these demons are often difficult to capture because of their tendency to travel in swarms. Armed with a sting just as deadly as a Damsel's and a pair of potent mandibles, these demons are a favourite among orc shamans.
Strix - Level 4 (Inquisitor Damien Rook)
Often mistaken for the Gryphowl, the Strix appears as an owlish bird with four clawed limbs. Their feathers are tipped with red, giving them a fearsome appearance. They are common in known parts of the ether, but are rarely captured due to their vicious nature. It is not unknown for a Strix to kill and eat its siblings when they reach maturity.
Gryphowl - Level 4 (Fletcher Raleigh)
This demon is a combination of cat and owl and is closely related to the Griffin and Chamrosh, though it is far rarer. Their sharp retractable claws and beak are their best weapons, but it is their keen intelligence and agility in the air that make them such a desirable demon. The Gryphowl is a loner by nature, but will often form a close bond with their summoner and fellow demons if treated well.
Raiju - Level 5 (Cress Freyja)
The Raiju is so rare that only five have ever been captured in Hominum's history. Appearing much like a hybrid of squirrel, racoon and mongoose, this mammalian demon has large yellow eyes and dark blue fur that is emblazoned with whorls and jagged stripes of teal. They have unusually high mana levels and at its most powerful, the Raiju's lightning bolt attack is capable of killing a bull orc. Strangely, this demon prefers to sleep on its summoner's stomach, curling around their masters' navels.
Enfield - Level 5 (Verity Faversham)
The Enfield is both rarer and smaller than its cousin, the Vulpid, and is the size of a large dog. It has the head of a fox, forelegs of an eagle, the narrow chest of a greyhound and the hindquarters of a wolf. Its front talons are dangerously sharp and it has tawny brown feathers interspersed among the red fur of its front and the grey of its back.
Chamrosh - Level 5
This hawk-dog hybrid is a quarter of the size of its closest cousin, the Griffin. The Chamrosh is renowned for its loyal and loving nature and will often become lonely when separated from their master. As the preferred support demon of the Celestial Corps, this demon is a favourite among summoners.
Taran was born in London in 1990 and found a passion for reading at a very early age. His love for stories developed into a desire to create his own during early adolescence, beginning his first book at 9 years old.
Straight after graduating with a First Class degree in Business Administration, Taran was keen to explore a new avenue and get inside the publishing world, landing an internship in Digital Sales at Penguin Random House, from June to September 2013.
Thereafter, while taking time off to travel, Taran began to write 'Summoner' in November 2013 at the age of 22, taking part in 'Nanowrimo 2013'.
Thanks to Wattpad.com and updating daily, its popularity dramatically increased, reaching over 3 million reads in less than six months.
After being featured by NBC News, Taran decided to launch his professional writing career and has never looked back.
His SUMMONER trilogy is published by Hodder Children's (Hachette) in the UK, Australia and Commonwealth, Feiwel and Friends (Macmillan) in the US and Canada, Hachette Jeunesse in France, Heyne in Germany, Planeta in Spain, Crown in Taiwan and Record in Brazil. Book 1 will be published by EKSMO in Russia, Jaguar in Poland, Ecliptic in Bulgaria and Alpress in the Czech Republic.
ABOUT THE BOOK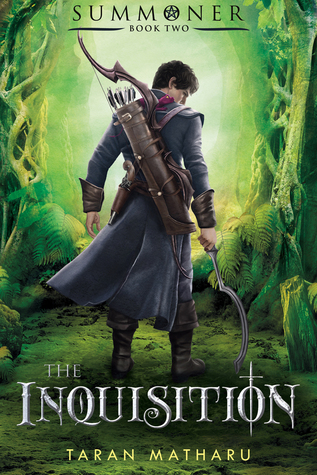 Title: The Inquisition
Author: Taran Matharu
Release Date: May 10, 2016
Publisher: Feiwel & Friends
Summary:
More demons, epic battles, and fights to the death: introducing the unmissable next installment in the Summoner Trilogy...
On trial for a crime he did not commit, Fletcher must face the Inquisition who will decide his future - the process is gruelling, lead by those who will do anything to see him suffer and haunted by ghosts from the past with clues to Fletcher's tragic origins.
But Fletcher has little time to dwell on these new revelations when the king announces a deadly challenge to the graduating students at Vocans. One that involves entering Orc territory to complete a risky mission. With loyal demons by their sides, commoners and nobles, dwarves and elves must overcome barriers of class and race and work together to triumph. The reward: a fortune in gold, the safety of an empire and PEACE.
With the entire empire watching, Fletcher has much to prove, but there are those out to get him and it soon becomes clear that there's a traitor in their midst, trying to thwart the mission and create unrest within the Empire.
With everything stacked against him, Fletcher must use everything in his power to fight his way to victory.
OTHER BOOKS IN THE SERIES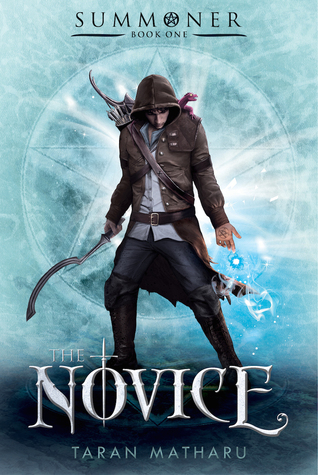 Book 1: The Novice
Prequel: Origins
a Rafflecopter giveaway
Win a Summoner Prize Pack, which includes a paperback copy of The Novice (book one in the Summoner Trilogy), a hardcover copy of The Inquisition (book two in the Summoner Trilogy), and Fierce Reads swag
Check out the rest of the tour
HERE
!