Title
: Duels & Deception
Series
: standalone
Author
: Cindy Anstey
Publisher
: Swoon Reads
Release Date
: April 11, 2017
Genre
: Young Adult Mystery Romance
Told
: Third Person Omniscient, Past Tense
Content Rating
: Teen (kidnapping, misadventure, kissing)
Format Read
: ARC (trade)
Find On
:
Goodreads
Purchase On
:
Amazon | B&N | Book Depository
Summary
:
Miss Lydia Whitfield, heiress to the family fortune, has her future entirely planned out. She will run the family estate until she marries the man of her late father's choosing, and then she will spend the rest of her days as a devoted wife. Confident in those arrangements, Lydia has tasked her young law clerk, Mr. Robert Newton, to begin drawing up the marriage contracts. Everything is going according to plan.
Until Lydia—and Robert along with her—is kidnapped. Someone is after her fortune and won't hesitate to destroy her reputation to get it. With Robert's help, Lydia strives to keep her family's good name intact and expose whoever is behind the devious plot. But as their investigation delves deeper and their affections for each other grow, Lydia starts to wonder whether her carefully planned future is in fact what she truly wants…
* * *

I
n a Sentence
:

A lighthearted Austen-esque mystery romance with entertaining characters and an engaging whodunit.
Duels & Deception
was an easy and enjoyable read with writing reminiscent of Jane Austen's gentle yet playful tone that makes even the most mild of subjects engrossing. Although it could get a little too quiet on occasion such is the way with these kinds of stories, and the sedate times made the exciting moments all the more thrilling. The main mystery had me guessing at every turn, although I was all but certain of the correct culprit about halfway through. Several vocal gasps and giggles were easily elicited throughout, and I was grinning broadly by the end. The romance was sweet and perfectly proper, and the characters all unique and engaging from the main players to the villainous henchmen. Overall a pleasant read that I highly recommend for Austen fans, and I look forward to reading more by Anstey soon.
For fans of
: Jane Austen
Scribble Rating:
4 of 5 Scribbles
--------------------------------------------------------------------------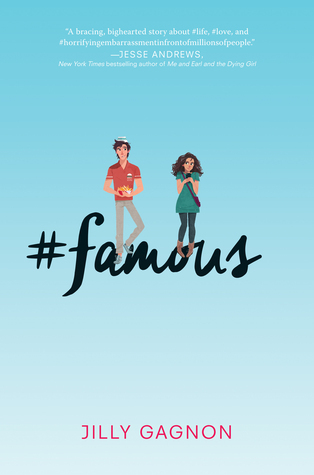 Title
: #famous
Series
: standalone
Author
: Jilly Gagnon
Publisher
: Katherine Tegen Books (HarperCollins)
Release Date
: February 14, 2017
Genre
: Young Adult Contemporary Romance
Told
: First Person (Rachel & Kyle), Past Tense
Content Rating
: Older Teen (innuendo, language, bullying, minor sensuality)
Format Read
: ARC (trade)
Find On
:
Goodreads
Purchase On
:
Amazon | B&N | Book Depository
Summary
:
Debut author Jilly Gagnon bursts onto the scene with a story equal parts bite and romance, perfect for fans of Jenny Han and Jennifer E. Smith, about falling for someone in front of everyone.
In this
modern day love story:
Girl likes boy. Girl snaps photo and posts it online. Boy becomes insta-famous. And what starts out as an innocent photo turns into a whirlwind adventure that forces them both to question whether fame—and love—are worth the price…and changes both of their lives forever.
Told from alternating points of view,
#famous
captures the sometimes-crazy thrill ride of social media and the equally messy but wonderful moments of liking someone in real life.
* * *


In a Sentence: A cliche and somewhat dispiriting #awkward contemporary romance about unexpected fame, bullying, and self-realization that was not the mood lifter I anticipated.
With its adorable cover and "modern day love story" premise I expected a lighthearted romance about finding love through a brush with fame. What I got, however, was
an #awkward romance I could barely read due to a lot of cringing, eye-rolling, and sighing over misinterpretations, false assumptions, and the fact that I did not think the two made a good couple. About two-thirds through I did eventually come to understand why they felt they were attracted to each other, but in my opinion while
they would make really good friends, they would not make long-lasting romantic partners.
As far as the fame aspect, it was a somewhat dispiriting
tale of expectations, self-realization, and for me
badly handled bullying
that soured the story. Thankfully it was a very quick read, and
despite an overused misunderstanding of a resolution,
t
he end was sweet and full of promise for the characters' futures. Overall
#famous
was
not the fluffy love story I'd been looking forward to, but if you enjoy more drama in your contemporary romances then perhaps give it
a try.
Recommend if you liked: Broken Hearts, Fences, & Other Things to Mend by Katie Finn