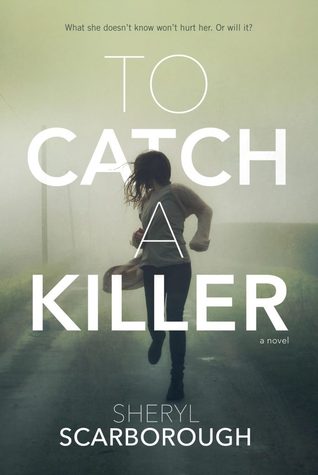 Title
: To Catch A Killer
Series
: standalone
Author
: Sheryl Scarborough
Publisher
: Tor Teen
Release Date
: February 7, 2017
Genre
: Young Adult Mystery
Told
: First Person (Erin), Present Tense
Content Rating
: Older Teen (some language, mild grisly images)
Format Read
: ARC (publisher)
Find On
:
Goodreads
Purchase On
:
Amazon | B&N | Book Depository
Summary
:
Erin Blake has one of those names. A name that, like Natalee Holloway or Elizabeth Smart, is inextricably linked to a grisly crime. As a toddler, Erin survived for three days alongside the corpse of her murdered mother, and the case—which remains unsolved—fascinated a nation. Her father's identity unknown, Erin was taken in by her mother's best friend and has become a relatively normal teen in spite of the looming questions about her past.
Fourteen years later, Erin is once again at the center of a brutal homicide when she finds the body of her biology teacher. When questioned by the police, Erin tells almost the whole truth, but never voices her suspicions that her mother's killer has struck again in order to protect the casework she's secretly doing on her own.
Inspired by her uncle, an FBI agent, Erin has ramped up her forensic hobby into a full-blown cold-case investigation. This new murder makes her certain she's close to the truth, but when all the evidence starts to point the authorities straight to Erin, she turns to her longtime crush (and fellow suspect) Journey Michaels to help her crack the case before it's too late.
* * *

Review copy provided by publisher for an honest review. Thank you, Tor Teen!



In a Sentence
: A disappointingly transparent mystery with an excess of movement that focused too much on romance and not enough on forensics.
Mystery shows and movies are a staple in my family. My parents have always watched them (
Masterpiece Mystery
every Thursday evening), and before I was allowed to join in I would sneak-watch them from my bedroom at night. (Shh, don't tell my parents!) As a child I used to read a lot of age-appropriate mysteries as well, but in my teens my tastes evolved in more fantastical directions and, due to illness, my reading speed slowed to the point that I eventually found I had less patience for a week-long novel-length whodunit when I could get gratification in three hours or less watching it. Because of this I almost never read mysteries anymore, but when Tor Teen offered me a review copy of
To Catch a Killer
I was intrigued by the forensics aspect of the story and couldn't resist giving it a try. Sadly, it turned out to be another reminder of why I don't read mysteries.
The most disappointing aspect for me was the forensics played a very minor role. Granted the story dealt with a teen who couldn't get her hands on much of the professional equipment so there wasn't a whole lot she could do, but it really felt like there could've been more in spite of her limitations - more observations, more studying. Instead, the forensics were more often than not forgotten in the wake of a sudden romantic entanglement that completely distracted the story and main character Erin from her hobby. We did examine evidence, dust for fingerprints, do an ink test and near the end a DNA test, most of which were somewhat interesting. But they were perhaps a little too step-by-step realistic, and the DNA test was so technical and complicated that I quickly got confused and bored and ended up skimming most of the two chapters it occupied.
As for the romance, while at its core sweet and understandable for a teenage girl, it distracted
way
too much from the mystery. Already slightly obsessed with the boy, when the latest murder draws them together Erin falls for him instantly and, despite two brutal murders that needed solving she could barely drag her brain away from thoughts of him long enough to focus on them. Don't get me wrong, I liked the boy and he was good for her, but it was just a little too much and elicited many an eye roll.
A big part of my struggles had to do with the writing, though. It took me a while to get used to the rhythm of the voice and the almost cinematic visual style - it was definitely apparent the author started out writing for television. But what I really had a problem with was movement: there was way way
way
too much of it, clogging the dialogue and making quick scenes infinitely longer than necessary. Yes humans tend to make a lot of little movements, shifting and twitching because of discomfort or nerves or emotion, but in a novel it's just annoying. Movement in a story should be deliberate and left to a minimum, that way when it happens it really means something, not just the character getting comfortable. I don't know if you need that much movement to direct actors in a screenplay, but in a novel it just clutters my imagination with unnecessary gestures.
As to the mystery itself, the answer was simple and, to a girl who's logged at least four thousand hours of mystery-watching in the past decade, so easy to guess with such conspicuous clues that I was suspicious it was too obvious. The plot was your typical foolish teen mystery setup as Erin withheld evidence from the police and determined to solve it with the help of her underage friends, despite the mounting danger. She did eventually involve her FBI uncle, but ultimately decided she could catch the killer on her own and one guess how that went for her.
All this said though, it was an okay read, I guess? For the most part it was engaging enough that I was willing to continue, although if it hadn't been for review I would've given up only a few chapters in. The dialogue was decent, and the characters interesting and individual - I never got any of them mixed up. And although the story revolved around two brutal murders and several attempts, I didn't feel the story was particularly dark, and the ending was a happy one.
Conclusion: While the mystery was obvious, the writing clogged with movement, and the forensics rather forgotten in the wake of the romance, the story was interesting enough to keep me reading and it wasn't as dark as it could've easily been. If you enjoy reading teen mysteries or are a Veronica Mars fan, this might be worth a try.