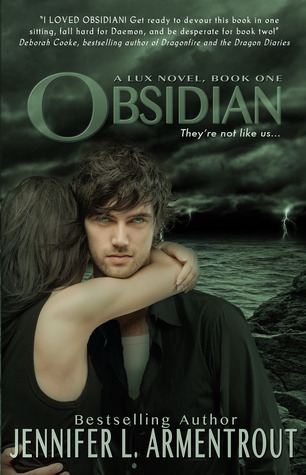 Title
: Obsidian
Series
: Lux, Book 1
Author
: Jennifer L. Armentrout
Publisher
: Entangled Teen
Release Date
: May 8, 2012
Genre
: Young Adult Supernatural
Told
: First Person (Katy), Past Tense
Content Rating
: Older Teen (language, strong sensuality, violence, attack, crude innuendo)
Format Read
: Paperback (purchase)
Find On
:
Goodreads
Purchase On
:
Amazon | B&N | Book Depository
Summary
:
Starting over sucks.
When we moved to West Virginia right before my senior year, I'd pretty much resigned myself to thick accents, dodgy internet access, and a whole lot of boring.... until I spotted my hot neighbor, with his looming height and eerie green eyes. Things were looking up.
And then he opened his mouth.
Daemon is infuriating. Arrogant. Stab-worthy. We do not get along. At all. But when a stranger attacks me and Daemon literally freezes time with a wave of his hand, well, something...unexpected happens.
The hot alien living next door marks me.
You heard me. Alien. Turns out Daemon and his sister have a galaxy of enemies wanting to steal their abilities, and Daemon's touch has me lit up like the Vegas Strip. The only way I'm getting out of this alive is by sticking close to Daemon until my alien mojo fades.
If I don't kill him first, that is.
Three Words
:
Twilight
but aliens.

Writing
: A pretty easy read, although an occasional lack of contractions made it a bit choppy at times. Any long-winded bouts of dialogue between Daemon and Katy struggled to follow a linear pattern; actions were overly described, which was mostly okay but sometimes weighed down the text.
Setting
: A small town in West Virginia. I truly felt the author's love for the state, although a little
too
much. Everything felt a little
too
real, like she was trying so hard to be accurate, and it sometimes dragged the story down. But otherwise, it made for a nice backdrop.
Story
: The plot felt like a too-close copy of
Twilight,
but without the obsessive romance. New girl moves to a backwater town - the polar opposite of what she's used to - and meets a dark, hot and moody boy that she feels electrically connected to. A love/hate relationship ensues, and then she discovers that he (and his family) are nothing close to normal, and in fact have supernatural abilities. Her knowing their secret puts them all in danger, and they end up having to fight his (and now her) enemy together, whether they like it or not - all the while fighting their attraction for each other. And by the end, it turns out she isn't quite the human they thought she was. We even got a history lesson, and she turns out to be just like a native woman of old. Overall:
Twilight
, but not
quite
as well done.
Characters
: Katy, our average new girl in town, was a book blogger! This made her more relatable in the beginning, but eventually it just felt like the author needed her to have a home-bound hobby and went with it to try and attract more reviewers. For the most part, Katy was pretty strong and brave, albeit foolish, but I guess I liked her. Daemon, all-powerful alien hunk extraordinaire, was moody but fun - when he was moody. When he was being nice he tended to ramble, and it confused the story. For an all-powerful alien though, he could be helpless when the story called for it, which was disappointing. Dee was sweet and fun and tended to light up any scene she was in - probably my favorite character.
Romantic Relationship
: They are extremely attracted to each other, but they fight it. Actually, truly fight it. Sure they almost kiss once or twice, and end up tangled together at one point, but by the end of the book they're still fighting it. She's human (well, supposed to be), and being with a human has previously proved bad for his kind. He's a powerful alien, and being around him puts her in constant danger. They accept these as valid reasons against being together and try to stay away from each other, despite the feelings growing between them.
They actually use their brains.
Sure, I know it won't last into the second book, but the story, and the romance, was better with them actually resisting at first.
Extras
: The paperback edition included several chapters from Daemon's POV. They were interesting and rather telling to what he really thought of Katy, despite how he acted.

Conclusion
: The plot was
way
too much like
Twilight
for me, but minus the obsessive romance it wasn't too bad a read. The paperback edition had the first two chapters of Lux Book 2 (
Onyx
) at the end, and while I hadn't planned on reading it before them, I'm now interested enough to continue the series.
For Fans Of
:
Twilight
by Stephanie Meyer

Scribble Rating:
3 of 5 Scribbles