Welcome to The Friday Reads Review, a regular Friday segment where I share what I've been reading the past week! Want to join the Friday fun? Post your own Friday Reads Review on your blog, and then leave the link in the Comments below!
>> CURRENTLY READING <<
Otherbound by Corinne Duyvis (ARC)
I was wary of this book for several reasons but the premise was so unique I had to give it a try, and wow has it blown me away. About three-fourths done and hate to be away from it.
>> ON HOLD <<
Trust Me, I'm a Ninja by Natalie Whipple (Pbk)
Halfway through but had to pause to read
Otherbound
. Sadly it's not as good as the first one, although things were picking up when I had to stop (of course).
>> JUST FINISHED <<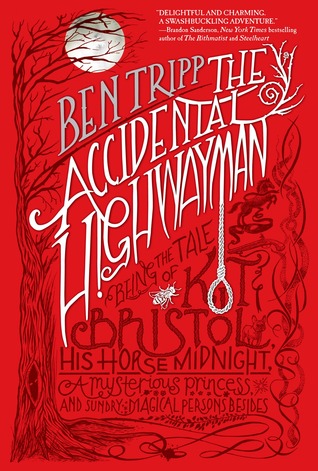 The Accidental Highwayman by Ben Tripp (ARC)
A fun and adventurous fairy tale that I quite enjoyed! Definitely for fans of
The Princess Bride
. Review to come.
>> READING NEXT <<
Etiquette & Espionage by Gail Carriger (Pbk)
Going to be re-re-reading this and the sequel with the
Gail Carriger Fan Group
in prep for Book the Third's release in November! Want to join us? Go
here
!
So what are you reading this week?