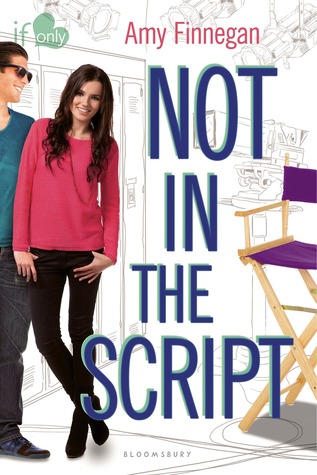 Title
: Not in the Script
Series
: If Only, Book 3
Author
: Amy Finnegan
Publisher
: Bloomsbury USA Childrens
Release Date
: October 7, 2014
Genre
: Young Adult Contemporary Romance
Told
: First Person Duo (Emma, Jake), Present Tense
Content Rating
: Teen (sensuality, drama)
Format Read
: ARC (publisher)
Find On
:
Goodreads
Summary
:
Millions of people witnessed Emma Taylor's first kiss—a kiss that needed twelve takes and four camera angles to get right. After spending years performing on cue, Emma can't help but wonder if any part of her life is real anymore . . . particularly her romances. She's been burned by heartthrobs (and the press) one too many times, but there's something about Emma's co-star on her new TV show
Coyote Hills
that is irresistible
.
Jake Elliott is gorgeous, smart and actually cares about Emma's charitable foundation. But she's sworn off on-set relationships. They
always
end badly . . . don't they?
* * *

Review copy provided by publisher for an honest review. Thank you, Bloomsbury!
Why I Read It
: Stories set on Hollywood sets (okay it's in Tucson but you know what I mean) are a guilty pleasure of mine.
Series
: This is the third book in the If Only series, but is in no way connected with the first two books - each is a standalone and can be read on their own without reading the others.
Writing
: Quick and easy. Good description, and the banter made me laugh out loud a number of times.
Setting
: Most of the story took place in Tucson, Arizona, only a few hours from my home sweet hot home, and I enjoyed the local venue! The setting was well incorporated with the story and created a nice stage for the story.
Story
: The story was entertaining, but only seemed to cover the highlights - it could've easily been twice as long, or a duology. I felt I missed out on a lot of really interesting stuff, life on and off the set sacrificed for the romance. What stuff we did get was a lot of fun though, and I learned quite a bit about the entertainment business and what it's like to be in the spotlight. It was a good story, but I would've liked more than just the romance of it.
Characters
: Both Emma and Jake were teenage grownups, living independently but still emotionally adolescent. They had plenty of responsible adult qualities, but unfortunately these were downplayed for the sake of their teenage romance. Emma was a people-pleaser, sacrificing her happiness and peace of mind for the sake of her best friend, her mother, even the press. It was a relief when she finally realized it and was able to start working towards her own happiness. Jake, despite his trust and abandonment issues, was sweet and cute and I liked him despite his flaws. Both felt relatively realistic, but a lot of their more relatable attributes got pushed to the background for the romance and I sadly never really connected with either of them as I would've liked.

Romantic Relationship
: Fraught with misunderstandings and miscommunication but sweet and fun during the good times. I definitely rooted for it.
Conclusion
: While I didn't connect with the characters or story as much as I would've liked, the local setting was fun and the banter got quite a few laughs out of me. For the most part it was an entertaining read, and I would recommend it for lighter contemporary romance readers.
Read It Again?
: Maybe
For Fans Of
: light contemporary romances
Scribble Rating:
3 of 5 Scribbles