Waiting on Wednesday is a weekly blogging event hosted by
Breaking the Spine
, in which one spotlights an upcoming release they are eagerly anticipating.

This week's pre-publication "can't-wait-to-read" selection is: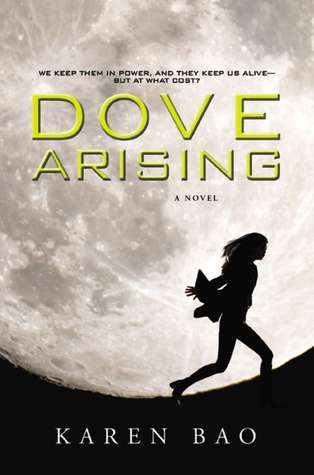 Title:
Dove Arising
Author: Karen Bao
Release Date: February 24, 2015
Publisher: Viking Juvenile
Summary:
Phaet Theta has lived her whole life in a colony on the Moon. She's barely spoken since her father died in an accident nine years ago. She cultivates the plants in Greenhouse 22, lets her best friend talk for her, and stays off the government's radar.
Then her mother is arrested.
The only way to save her younger siblings from the degrading Shelter is by enlisting in the Militia, the faceless army that polices the Lunar bases and protects them from attacks by desperate Earth-dwellers. Training is brutal, but it's where Phaet forms an uneasy but meaningful alliance with the preternaturally accomplished Wes, a fellow outsider.
Rank high, save her siblings, free her mom: that's the plan. Until Phaet's logically ordered world begins to crumble...

Why I'm Looking Forward To It: At first I didn't give this a second glance because of the underwhelming cover (yes, I am the cliche reader who judges a book first and foremost by its cover), but this has a Hunger Games meets Divergent but in an original way feel that intrigues me!



So what book are you waiting on?