Waiting on Wednesday is a weekly blogging event hosted by
Breaking the Spine
, in which one spotlights an upcoming release they are eagerly anticipating.

This week's pre-publication "can't-wait-to-read" selection is: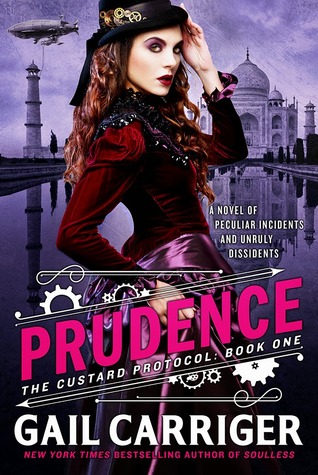 Title:
Prudence
Author: Gail Carriger
Release Date: March 17, 2015
Publisher: Orbit
Summary:
When Prudence Alessandra Maccon Akeldama (Rue to her friends) is given an unexpected dirigible, she does what any sensible female would under similar circumstances - names it the Spotted Crumpet and floats to India in pursuit of the perfect cup of tea. But India has more than just tea on offer. Rue stumbles upon a plot involving local dissidents, a kidnapped brigadier's wife, and some awfully familiar Scottish werewolves. Faced with a dire crisis and an embarrassing lack of bloomers, what else is a young lady of good breeding to do but turn metanatural and find out everyone's secrets, even thousand-year-old fuzzy ones?
Why I'm Looking Forward To It:
Well hello there book by my favorite author that I've been waiting on since 2011 but somehow forgot to feature until now! Aren't you looking fabulous today? Can't wait to finally meet you soon!!
So what book are you waiting on?