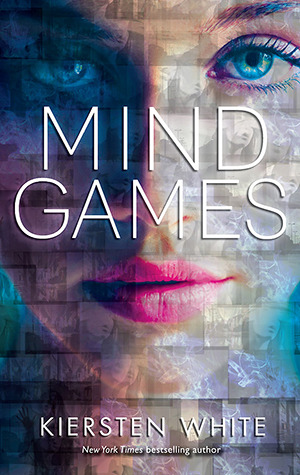 Title
: Mind Games, Perfect Lies
Series
: Mind Games duology, Books 1 & 2
Author
: Kiersten White
Publisher
: HarperTeen
Release Date
: December 3, 2013, February 18, 2014
Genre
: Young Adult Magical Realism
Content Rating
: Older Teen (Book 1: disturbing images and actions, some sensuality; Book 2: sensuality, intense situations, some violence)
Format Read
: ARCs (trade)
Find On Goodreads
:
Book 1
,
Book 2
Purchase On
:
Amazon | B&N | Book Depository
Book 1 Summary
:
Fia was born with flawless instincts. Her first impulse, her gut feeling, is always exactly right. Her sister, Annie, is blind to the world around her—except when her mind is gripped by strange visions of the future.
Trapped in a school that uses girls with extraordinary powers as tools for corporate espionage, Annie and Fia are forced to choose over and over between using their abilities in twisted, unthinkable ways…or risking each other's lives by refusing to obey.
In a stunning departure from her New York Times bestselling Paranormalcy trilogy, Kiersten White delivers a slick, edgy, heartstoppingly intense psychological thriller about two sisters determined to protect each other—no matter the cost.
Annie and Fia are ready to fight back.
The sisters have been manipulated and controlled by the Keane Foundation for years, trapped in a never ending battle for survival. Now they have found allies who can help them truly escape. After faking her own death, Annie has joined a group that is plotting to destroy the Foundation. And Fia is working with James Keane to bring his father down from the inside.
But Annie's visions of the future can't show her who to trust in the present. And though James is Fia's first love, Fia knows he's hiding something. The sisters can rely only on each other - but that may not be enough to save them.
* * *
Three Words
: Chilling. Engrossing. Balanced.
Writing & Story
:
A simple but edgy and engrossing story told in alternating First Person chapters from sisters Fia and Annie, as well as past and present timelines.
Fia's c
hoppy train of thought narration was a bit jarring at first but so raw and real that soon the choppier her chapters were, the better.
Annie's sightless voice was comparatively rather passive-aggressive and kind of bland, but it balanced Fia's madness. T
he back-and-forth chapter layout made the individual timelines occasionally confusing and hard to follow, but the unbalanced story seemed to fit with Fia's unbalanced mind.
Characters
: Fia was intense and seriously messed up, a train wreck I couldn't look away from. With her many tics she was so realistic, and I connected with her like no other character before. Compared to Fia, Annie was kind of passive-aggressive and bland - Fia outshone her by miles with so much originality and personality. Annie was the opposite of proactive, never doing much of anything, letting everyone take care of her. She even realizes this... and then doesn't do much to correct it. I know she was blind, but all her actions were
re
actions, even at the end, and this made them anticlimactic and rather predictable. That said though, she was a good contrast to Fia - a quiet, innocent soul to Fia's loud, broken one. She balanced out Fia's crazy so the book wasn't just one big mass of insanity.
Content: This was a dark story, but not a heavy dark. Although it was a story about a girl who hurts and kills people, the violence was described clinically and dispassionately which lightened the heavier content.
Conclusion: While it had its flaws, the intensity of the story and the brilliance that was Fia made for one seriously engrossing read that I highly recommend and can't wait to rediscover again soon!