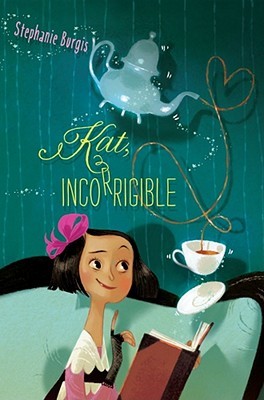 Title
: Kat, Incorrigible
Series
: Kat, Incorrigible, Book 1
Author
: Stephanie Burgis
Publisher
: Atheneum
Release Date
: April 5, 2011
Genre
: Middle Grade Historical Magical Realism
Content Rating
: Middle Grade (some scary situations and darker content)
Format Read
: Hardcover (library)
Find It On
:
Goodreads
Summary
:
Katherine Ann Stephenson has just discovered that she's inherited her mother's magical talents, and despite Stepmama's stern objections, she's determined to learn how to use them.
But with her eldest sister Elissa's intended fiancé, the sinister Sir Neville, showing a dangerous interest in Kat's magical potential; her other sister, Angeline, wreaking romantic havoc with her own witchcraft; and a highwayman lurking in the forest, even Kat's reckless heroism will be tested to the upmost.
If she can learn to control her new powers, will Kat be able to rescue her family and win her sisters their true love?
* * *
Young and adventurous but with a darker tone that, while it wasn't as good as the cover promised was still a magical read.
Looking back, the summary was rather misleading for me. Paired with the fun cover I expected a light and playful story about a young girl who discovers she has powers and looks to books to learn how to use them, causing magical mishaps along the way but ultimately coming into her own. Instead this was a surprisingly darker story about a young girl at odds with her older sisters who has to go behind their backs to learn about magic and in doing so comes to the attention of some dangerous adults who want to use her. There were still magical mishaps, and Kat discovered she had inherited a pretty cool power, but it was darker than the cheerful cover had led me to expect. Still, while not quite what I was hoping for, it was a pretty good Middle Grade historical magic story with secret societies, unusual twists, romantic high-jinks, and a strong and self-reliant heroine.
There are two more books in the series, and as I suspect the second will be closer to the magical lessons and mishaps I was expecting in this book, I'll give it a try someday.
(This was the January 2015 pick for Gail's Book Group. To find out more about the Group and see what we've been reading, click here!)