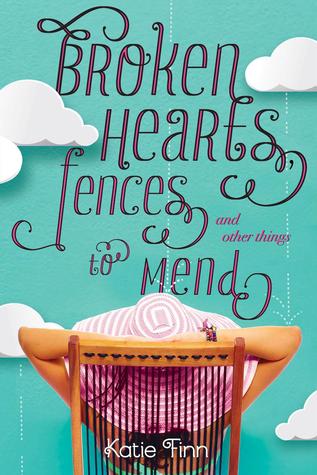 Title
: Broken Hearts, Fences, and Other Things to Mend
Series
: Broken Hearts & Revenge, Book 1
Author
: Katie Finn
Publisher
: Feiwel & Friends
Release Date
: May 13, 2014
Genre
: Young Adult Contemporary Romance
Content Rating
: Teen (minor sensuality)
Format Read
: ARC (EpicLibrarian)
Find On
:
Goodreads
Purchase On
:
Amazon | B&N | Book Depository
Summary
:
Hot sun. Blue waves. New romances. Old secrets.
Gemma had her summer all planned out, but it takes a sharp turn when she gets dumped and finds herself back in the Hamptons after a five-year absence.
Being there puts her at risk of bumping into Hallie, her former best friends (that is, before Gemma ruined her life). But people don't hold grudges forever. Do they?
Gemma intends on making amends, but a small case of mistaken identity causes the people she knew years ago—including Hallie and her dreamy brother, Josh—to believe she's someone else. As though the summer wasn't complicated enough already.
* * *

In a Sentence
:
A light but somewhat vexing contemporary romance about a sympathetic but naive girl that made me cringe way too much.
Writing
: The sentence structure was a little awkward for me. I'm a lover of the comma, but here it was used not only to excess but much of the time in the wrong places. Hopefully this was just an ARC error and corrected in the final copy.
Story
: Due to a highly predictable plot and naive main character, most of this book was a rather painful read for me. Gemma tried so hard to do good, but "coincidental" and "mysterious" bad things just kept happening to her. I cringed so much through the middle of the book that I finally had to set it aside for a day or two, I just couldn't take anymore.
That said, for a story about revenge it was a surprisingly light summer read, and when bad things weren't happening to Gemma it was a sweet romance. And while everything was completely obvious from the onset (I can even predict several major events and reveals in the next book), I will admit I did waver a little throughout. ("She knows. Doesn't she? She has to know, here's the proof. It is her...isn't it? No, it must be her.") The end had me banging the book against my head, though. I can't say why, but Gemma's next move is just ridiculous to me considering the ramifications to her romantic interests.
Characters
: Gemma was a highly sympathetic character, but her overwhelming naivete got on my nerves. I guess she was trying so hard to see the good not only in herself but in others that she couldn't even consider evil intentions despite the mountain of coincidences and blatant hints to the contrary. It's hard to say if she brought it upon herself, but I don't think she deserved it. As for the rest of the cast, I can't say much without spoiling anything (just in case you might not guess it from the onset), but Sophie was an amazing and understanding and fun best friend and despite her boy habits I'd love her for my own bff!
Romantic Relationship
: This was definitely an "aww" romance. Josh was a sweetie and he and Gemma were great together, and when they weren't in the thralls of evil intent their scenes were the best of the book and made it almost bearable.
Conclusion
: While it had its good points (the happy moments, the romance), they were unfortunately outweighed by the bad points for me (Gemma's naivete, anything revenge-related). This is the first book in a trilogy, and although the thought of reading two more books to get to the happy ending gives me great pause, now that it's over I'm a little curious to see if Gemma will rediscover some of the smarts she had as a conniving child and will probably give the second book a try.