Welcome to the first stop on the blog tour for
A Poison Dark and Drowning
, the second book in the Kingdom on Fire series by Jessica Cluess from Random House! I found the first book,
A Shadow Bright and Burning
, an engrossing and enchanting read (you can peruse my full review
here
), so I am excited to start off the tour for the second book! Check out my review of
A Poison Dark and Drowning
below, and enter to win a shiny finished copy at the end!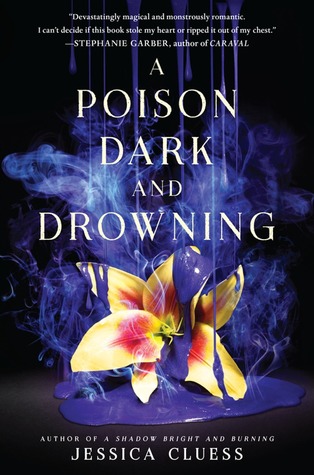 Title
: A Poison Dark and Drowning
Series
: Kingdom on Fire, Book 2
Author
: Jessica Cluess
Publisher
: Random House
Release Date
: September 19, 2017
Genre
: Young Adult Alternate Historical Horror Fantasy
Told
: First Person (Henrietta), Past Tense
Content Rating
: Older Teen (scary situations, some gore, magical battles, some sensuality)
Format Read
: ARC (publisher)
Find On
:
Goodreads
Purchase On
:
Amazon | B&N | Book Depository
Summary
:
The magicians want her to lead.
The sorcerers want her to lie.
The demons want her blood.
Henrietta wants to save the one she loves.
But will his dark magic be her undoing?
In this seductive and explosive second book in the Kingdom on Fire series, Jessica Cluess delivers her signature mix of magic, passion, and teen warriors fighting for survival. Hand to fans of Victoria Aveyard, Sarah J. Maas, and Kiersten White.
Henrietta doesn't need a prophecy to know that she's in danger. She came to London to be named the chosen one, the first female sorcerer in centuries, the one who would defeat the Ancients. Instead, she discovered a city ruled by secrets. And the biggest secret of all: Henrietta is not the chosen one.
Still, she must play the role in order to keep herself and Rook, her best friend and childhood love, safe. But can she truly save him? The poison in Rook's system is transforming him into something monstrous as he begins to master dark powers of his own. So when Henrietta finds a clue to the Ancients' past that could turn the tide of the war, she persuades Blackwood, the mysterious Earl of Sorrow-Fell, to travel up the coast to seek out strange new weapons. And Magnus, the brave, reckless flirt who wants to win back her favor, is assigned to their mission. Together, they will face monsters, meet powerful new allies, and uncover the most devastating weapon of all: the truth.
* * *

Review copy provided by publisher for an honest review. Thank you, Random House!



In a Sentence
: A solid and entertaining sequel with enchanting magic, vivid description, and dark twists.
Series Note
: This is the second book in the Kingdom on Fire series. I re-read the first book,
A Shadow Bright and Burning
, right before reading this sequel. You can check out my review of the first book
here
.
After quite enjoying
A Shadow Bright & Burning
last year, I was eager to get my hands on the sequel and continue Henrietta's endeavors to control her powers and defeat the horrific Ancients that terrorize her alternate historical England.
A Poison Dark & Drowning
opens some two months after the end of the first book, with Henrietta settling into her secondary Sorcerer training and required duties. Determined to learn more about the otherworldly Ancients, her investigations soon lead her to a mysterious and magical house in search of weapons that could possibly turn the tide of the war. But as Henrietta and her companions struggle to wield the unnatural tools, information about the Ancients' origins as well as Henrietta's past and connection to them is uncovered, revealing dark and painful truths that may destroy them all.
This was a solid middle book with vivid description and a good pace. The first few chapters were a little quiet as we delved more into the Sorcerers' world, but things quickly picked up as the team began to reassemble and travel and soon there was plenty of action and tension and mystery to engross me. As with the first book a lot of the twists were generally predictable, but a few did take me by surprise, especially one complete shock near the climax whose fallout I enjoyed right to the end. The action finished a little too early for me leaving the last few chapters a bit sedate, but they wove a disquieting hopefulness for the final book that has me looking forward to the series end with a little dread but great interest. While I still hold to a few small unresolved predictions, given the surprising dark turns of the first two books I'm excited to say I really don't know what to expect with the third.
Henrietta continued to be the powerful but floundering girl of the first book, inexperienced and unsure how to proceed but desperate to do something to save those she cared about. Her fumbled failures - and even successes - tended to mire everyone deeper into trouble and tragedy, but for the most part her heart was in the right place and her fierce loyalty to Rook was commendable. The unfortunate first-book love triangle grew into an uncomfortable second-book square as a new and possessive prospect threw his hat into Henrietta's ring. Due to an unsettling personality turn, and my still firmly held predictions about him, I didn't like his addition even more than Marcus, so all his romantic overtures were rather hard for me to read. I also didn't like Henrietta's reaction to his advances (or to Marcus's before) as every time a boy shows her a hint of affection our strong heroine goes weak in the knees and questions her feelings for the one she really loves. I guess it could be considered realistic given her childhood insecurities and the mountain of pressure she's under, but I felt sorry for Rook being in love with an unassured girl like Henrietta. Still, despite serious spoilers, I will continue to root for Henrook (Rooketta?) to the series end.
Conclusion
: A solid second book with good tension, interesting magic, and a few surprising plot twists, even if other twists were predictable and I had problems with the romance. Not much is currently predictable about the final book, so I will be going into it with definite excitement!
Scribble Rating:
4 of 5 Scribbles
Jessica Cluess is a writer, a graduate of Northwestern University, and an unapologetic nerd. After college, she moved to Los Angeles, where she served coffee to the rich and famous while working on her first novel. When she's not writing books, she's an instructor at Writopia Lab, helping kids and teens tell their own stories.
GIVEAWAY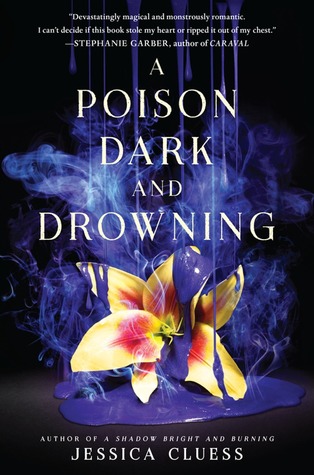 Win a shiny new hardcover of
A Poison Dark & Drowning
from Random House!
a Rafflecopter giveaway