Waiting on Wednesday is a weekly blogging event in which one spotlights an upcoming release they are eagerly anticipating.

This week I have TWO pre-publication "can't-wait-to-read" teen sci-fis from HarperCollins!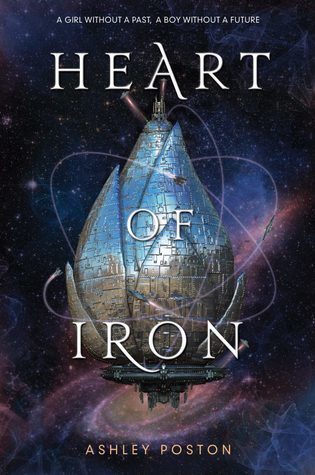 Title:
Heart of Iron
Author: Ashley Poston
Release Date: February 27, 2018
Publisher:
Balzer & Bray
Summary:
Seventeen-year-old Ana is a scoundrel by nurture and an outlaw by nature. Found as a child drifting through space with a sentient android called D09, Ana was saved by a fearsome space captain and the grizzled crew she now calls family. But D09—one of the last remaining illegal Metals—has been glitching, and Ana will stop at nothing to find a way to fix him.

Ana's desperate effort to save D09 leads her on a quest to steal the coordinates to a lost ship that could offer all the answers. But at the last moment, a spoiled Ironblood boy beats Ana to her prize. He has his own reasons for taking the coordinates, and he doesn't care what he'll sacrifice to keep them.

When everything goes wrong, she and the Ironblood end up as fugitives on the run. Now their entire kingdom is after them—and the coordinates—and not everyone wants them captured alive.

What they find in a lost corner of the universe will change all their lives—and unearth dangerous secrets. But when a darkness from Ana's past returns, she must face an impossible choice: does she protect a kingdom that wants her dead or save the Metal boy she loves?
Why I'm Looking Forward To It:
With a young "scoundrel and outlaw" female lead and sentient android sidekick (my catnip), what's not to look forward to? It's also supposed to be an Anastasia retelling, so of course I'm desperate to get my hands on this beauty!
Title:
Honor Among Thieves
Author: Rachel Caine & Ann Aguirre
Release Date: February 13, 2018
Publisher:
Katherine Tegen Books
Summary:
Zara Cole has been in and out of New Detroit's rehab facilities for treatment of her antisocial disorder. There's no adjusting Zara's attitude, though. A painful past has made her stronger than most, which is why she chose life in the Zone instead moving with her family to Mars. In her eyes, living inside a dome isn't much better than a prison cell.

Still, when Zara commits a crime that has her running scared, jail might be exactly where she's headed. Instead Zara is recruited into the Honors, an elite team of humans selected by the Leviathan–a race of sentient alien ships—to explore the outer reaches of the universe as their passengers.

Zara seizes the chance to flee Earth's dangers, but when she meets Nadim, the alien ship she's assigned to along with fellow Honor Beatriz, Zara starts to feel at home for the first time, along with a devotion she's never experienced before. Yet nothing—not her Honors training or her street smarts—could have prepared her for the dark, dangerous truths that lurk behind the glitter of starlight.

Honor Among Thieves is the first book in a daring new sci-fi series by bestselling authors Rachel Caine and Ann Aguirre.
Why I'm Looking Forward To It:
Two words: sentient spaceship!! Ever since I discovered Anne McCaffrey's The Ship Who Sang I've been impatiently waiting for an updated teen version. "Exploring the outer reaches of the universe" is also my favorite sci-fi premise, so I'm eager to read it ASAP!
So what book(s) are you waiting on?