Welcome to The #FridayReads Review, a regular Friday segment where I share what I've been reading the past week, and what I'm planning to read next! Want to join the Friday fun? Post your own #FridayReads Review and leave the link in the Comments below, or just Comment with what you've been reading!
>> CURRENTLY READING <<
Nyxia by Scott Reintgen (ARC)
The author is coming to my local indie this month so I gave it a try and was surprised by now engrossed I quickly found myself. There are WAY too many characters to keep straight and the competition is nothing new, but the forefront characters are interesting and memorable and the story and mystery are engaging. Currently 70% through.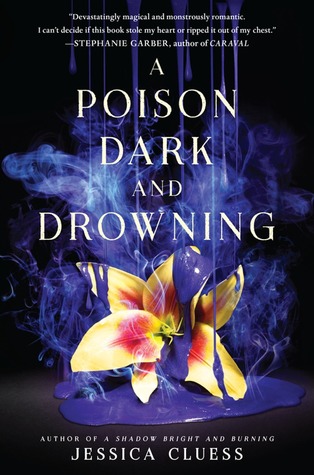 A Poison Dark & Drowning by Jessica Cluess (ARC)
4 Sta

rs.
A solid and magical second book with good tension and a few surprisingly dark plot twists, even if most of the other twists were highly predictable. I did have some minor problems with the somewhat unbalanced Henrietta and the romance, but otherwise it was an entertaining read and I really look forward to the final book next year. Review to come this Monday.
Murder, Magic, & What We Wore by Kelly Jones (ARC)
4.5 Stars. 2nd read for the review and still a delightfully fun and fashionable alternate Regency mystery with marvelous magic and intriguing espionage for fans of Gail Carriger and the Glamourist Histories by Mary Robinette Kowal! Review to come later this month.
>> [POSSIBLY] READING NEXT <<
(subject to change with my ever-shifting reading whims)
Had to set this aside for a bit after the illogically ruled first chapter infuriated me, but I'll try to continue/finish it before I see the author later this month.
So what are you reading this week?