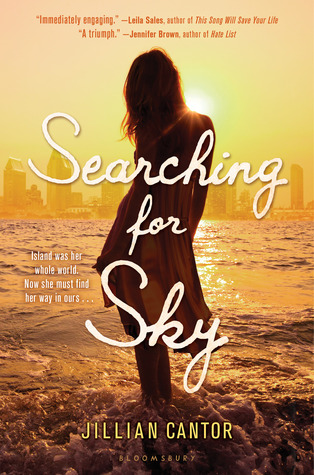 Title
: Searching for Sky
Series
: standalone
Author
: Jillian Cantor
Publisher
: Bloomsbury USA Childrens
Release Date
: May 13, 2014
Genre
: Young Adult Contemporary
Told
: First Person (Sky), Present Tense
Rating
: Teen (a few words of language, kissing, thematic elements)
Format Read
: ARC (publisher)
Find It On
:
Goodreads
Purchase On
:
Amazon | B&N | Book Depository
Summary
:
Sky and River have always lived on Island, the only world they've ever known. Until the day River spots a boat. Across Ocean, in a place called California, Sky is separated from River and forced to live with a grandmother she's just met. Here the rules for survival are different. People rely on strange things like cars and cell phones. They keep secrets from one another. And without River, nothing makes sense. Sky yearns for her old life where she was strong and capable, not lost and confused. She
must
find River so they can return to Island, but the truth behind how they ended up there in the first place will come as the biggest shock of all.
* * *

Review copy provided by publisher for an honest review. Thank you, Bloomsbury!


Three Words
: Powerful. Emotional. Amazing.
Writing
: Uncomplicated and emotional. Sky's voice drew me right in, had me feeling what she felt - her love my love, her ache my ache. There was a lot of capitalization in the beginning (Island, Ocean, Bathroom Tree) which I really liked, everything called just what it was. And when Sky eventually learned this wasn't how "normal" people considered things and began dropping them, it chronicled her evolution of becoming a more "normal" person.
The reader is left to interpret the meaning and relevance of a lot of things on their own through information supplied via quick flashbacks and passing comments, which was a great way to go about giving us what we needed to know - especially when Sky didn't understand the relevance of most of it herself. This book is an excellent example of "show, don't tell," and except for the very last scene (I needed to be told, darn it!) I really enjoyed the approach.
Setting
: We begin on Island - plain, simple, small. There's not much to it and we get the feel of that, of the monotonous but peaceful routine that Sky and River follow each day to survive. Jillian does a beautiful job of giving us a true feel of their quiet life, so when we make the shift to the "real world" we feel bombarded right along with Sky, everything loud, busy, moving too fast. Sky's view of and reactions to the real world through her "Island filter" were fascinating and occasionally quite comical, and I really enjoyed the unique description.
Story
: This story is a "what if" scenario that really makes you think about what "normal" really is, and how much stock we put in it. The book's official summary (above) describes the simple but emotionally charged story well. Sky was wrenched from the peaceful life she loved and forced into the chaotic life she was supposed to have lived, and her struggle to understand and adapt among strangers without losing her true self was fascinating and engrossing. The "truth behind how they ended up there [on Island] in the first place" was handled extremely well, kept to the background and fed to us, as it was to Sky, in snippets, leaving the reader to put the pieces together on their own to see the whole picture and come to their own conclusions. The last four chapters had me reading through a veil of tears, and while I'm still a bit frustrated with the ending (and still debating with myself what exactly it means), it was a powerful and emotional and amazing story that never let me go until the very last word and still has me thinking about it long after it's over.
Characters
: Sky's innocent and Island-filtered view of the world was refreshing and fun. She made me look at everything in a new light, and consider words in whole new contexts (I get "re-tired" a lot, too ;). Her emotions were simple, direct, raw, and blatantly honest, which made them easy to relate to and felt so much deeper because she felt things with her whole being. Despite her fear she was strong and persevered, adapting as much as she had to in the face of her uncontrollable situation but still fighting for what she really wanted. Even though I have nothing in common with her, I felt for her and with her, and she is now one of my all-time favorite characters.
River was a sweetie and although I occasionally mistrusted him I couldn't help wanting to take him in and look after him. The world mistreated him for something that wasn't his fault, and I despised the world for it. Just thinking about it still makes me seethe. And the fact that I can totally see the world reacting that way if the situation presented itself in real life just makes my anger worse. Let's move on. I despised the grandmother right from the start, even more than I despised the world. I know she meant well, but she went about
everything
the wrong way, and brought practically nothing but heartbreak and hatred into Sky's life. I was okay with the way Sky handled her feelings for the woman in the end, but if it had been me ... yeah, let's just move on.

Romantic Relationship
: The small bit of a romance we get doesn't come until nearly the end of the book, and there isn't much of it. What little there is, however, is deep and slow grown and rather beautiful.
Series
: This is a standalone, although the ending was left open to interpretation (which was a little frustrating for a bow-tie gal like me). Jillian says she wants to write a sequel someday, which I'm on the fence about - Sky's story is so amazing I want more, but even with the open ending it's a great standalone (and we need more standalones right now!). If they decide to do a sequel, though, I'm sold.
Conclusion
: I rarely read Contemporary (it's just not my genre), but Sky drew me in with her raw emotion and unique view of the world and I loved every word.
Searching for Sky
is an amazing and powerful book that I highly recommend to anyone and everyone, no matter your usual reading tastes.
Scribble Rating:
5 of 5 Scribbles