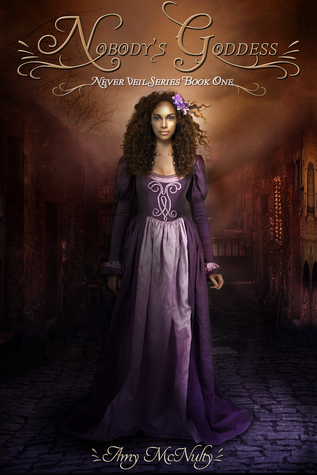 Title
: Nobody's Goddess
Series
: Never Veil Series, Book 1
Author
: Amy McNulty
Publisher
: Month9Books
Release Date
: April 21, 2015
Genre
: Young Adult Fantasy
Told
: First Person (Noll), Past Tense
Content Rating
: Older Teen (mistreatment and abuse of women, violence)
Format Read
: Paperback (library)
Find On
:
Goodreads
Purchase On
:
Amazon | B&N | Book Depository
Summary
:
In a village of masked men, magic compels each man to love only one woman and to follow the commands of his "goddess" without question. A woman may reject the only man who will love her if she pleases, but she will be alone forever. And a man must stay masked until his goddess returns his love—and if she can't or won't, he remains masked forever.
Seventeen-year-old Noll isn't in the mood to celebrate. Her childhood friends have paired off and her closest companion, Jurij, found his goddess in Noll's own sister. Desperate to find a way to break this ancient spell, Noll instead discovers why no man has ever chosen her.
Thus begins a dangerous game between the choice of woman versus the magic of man. And the stakes are no less than freedom and happiness, life and death—and neither is willing to lose.
* * *

In a Sentence
: An engrossing and thought-provoking fantasy about choices and consequences with a unique premise but selfish main character.
This was an interesting tale that considered what would happen if one gender almost completely dominated the other. Its main focus was on woman over man - if a woman had control over one man, and could only be with one man, but could not choose that man. Here the man is struck by the magical equivalent of love at first sight, and then the woman is left with three choices: be with him and love him, be with him but don't love him, and don't be with him and be alone forever. Although a woman's order to her man must be followed, this seemed little consolation given the option she is forced to choose is sometimes the best of the worst. And what happens if you don't love a man, but another woman?
Men appear get the short end of the stick (especially since being turned away by your woman sends you to live a rather half-life in the commune), but the flip-side does come up as well: what would things be like if men had full power over women? Highly unsettling in this book, but the study in contrast was intriguing, especially from main character Noll's female-dominant perspective.
While Nol's perspective was interesting though, I did struggle with her personality. She was a bit too selfish for me, taking what she wanted and fighting against the happiness of others if it didn't coincide with her own. I also had a hard time following her reasoning, which made for some confusion at times. But her biggest sin for me was that she didn't even try to fall for her man. Since she couldn't have what she wanted (essentially another woman's man), she didn't even give her own a second thought, and that frustrated me. Not that falling for him would've necessarily been a good thing - while the romantic in me rooted for them to be together, I also felt a foreboding that if she fell for him it would mean the end of the world, or at least her relatively peaceful one. This made for a rather thrilling emotional struggle on my part, not knowing which side to take, but I would've liked Noll to have been at least a little tempted by him.
Overall this story was more thinker than entertainment for me, but that's not to say it wasn't entertaining. Once I picked up this book I didn't want to put it down, and found myself sneaking paragraphs whenever and wherever I could. I did struggle a bit in the middle, but stayed up very late to finish the last few chapters (an extremely rare occurrence for me). There is a
lot
more to the plot than the summary implies, involving multiple worlds and revolutions and lots of magic, but part of what made this book engrossing was the mystery of what lay beyond the summary, so I'll just leave it at that and you'll have to discover the rest for yourself.
Conclusion
: While I did have some problems with the main character, overall this was a rather engrossing and interesting fantasy. Recommend for readers who like stories that make them think. I thought the end wrapped up the story rather well, but this is the first in the Never Veil trilogy. Without a summary to go on right now, I'm curious how the story will expand.
For Fans Of
: possibly
Beauty and the Beast