Waiting on Wednesday is a weekly blogging event hosted by
Breaking the Spine
, in which one spotlights an upcoming release they are eagerly anticipating.

This week I have TWO pre-publication "can't-wait-to-read" series enders:



Title:
Their Fractured Light (Starbound #3)
Author: Amie Kaufman & Meagan Spooner
Release Date: December 1, 2015
Publisher:
Disney-Hyperion
Summary:
A year ago, Flynn Cormac and Jubilee Chase made the now infamous Avon Broadcast, calling on the galaxy to witness for their planet, and protect them from destruction. Some say Flynn's a madman, others whisper about conspiracies. Nobody knows the truth. A year before that, Tarver Merendsen and Lilac LaRoux were rescued from a terrible shipwreck—now, they live a public life in front of the cameras, and a secret life away from the world's gaze.
Now, in the center of the universe on the planet of Corinth, all four are about to collide with two new players, who will bring the fight against LaRoux Industries to a head. Gideon Marchant is an eighteen-year-old computer hacker—a whiz kid and an urban warrior. He'll climb, abseil and worm his way past the best security measures to pull off onsite hacks that others don't dare touch.
Sofia Quinn has a killer smile, and by the time you're done noticing it, she's got you offering up your wallet, your car, and anything else she desires. She holds LaRoux Industries responsible for the mysterious death of her father and is out for revenge at any cost.
When a LaRoux Industries security breach interrupts Gideon and Sofia's separate attempts to infiltrate their headquarters, they're forced to work together to escape. Each of them has their own reason for wanting to take down LaRoux Industries, and neither trusts the other. But working together might be the best chance they have to expose the secrets LRI is so desperate to hide.
Why I'm Looking Forward To It:
Yeah, considering the first two books in this series were my favorite reads of 2013 and 2014, I'm not sure why I haven't featured this yet either. I think I've just been too busy flailing over the absolutely gorgeous cover and that it will in fact be about Sofia!! (Totally called it.) Looking forward to re-reading the first two books this fall/winter and then finishing the series with this pretty in December, which alas I'll have to read hardcover but it'll be worth it.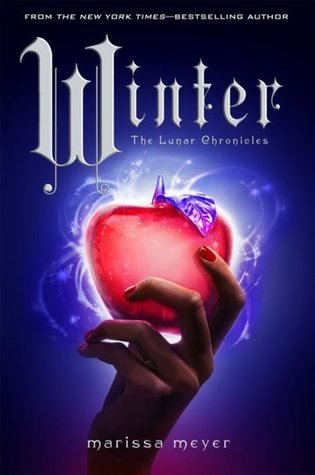 Title:
Winter (Lunar Chronicles #4)
Author: Marissa Meyer
Release Date: November 10, 2015
Publisher:
Feiwel & Friends
Summary:
Princess Winter is admired by the Lunar people for her grace and kindness, and despite the scars that mar her face, her beauty is said to be even more breathtaking than that of her stepmother, Queen Levana.
Winter despises her stepmother, and knows Levana won't approve of her feelings for her childhood friend–the handsome palace guard, Jacin. But Winter isn't as weak as Levana believes her to be and she's been undermining her stepmother's wishes for years. Together with the cyborg mechanic, Cinder, and her allies, Winter might even have the power to launch a revolution and win a war that's been raging for far too long.
Can Cinder, Scarlet, Cress, and Winter defeat Levana and find their happily ever afters?

Why I'm Looking Forward To It: I'm a little behind on this series (I have yet to read Cress, and Fairest - what can I say, I struggle with series), but I absolutely LOVED the first two books and am looking forwarding to finishing this amazing series soon!
So what book(s) are you waiting on?