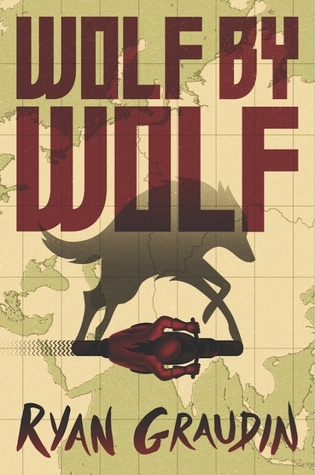 Title
: Wolf By Wolf
Series
: Wolf By Wolf, Book 1
Author
: Ryan Graudin (site)
Publisher
: Little, Brown BYR
Release Date
: October 20, 2015
Genre
: Young Adult Alternate Historical
Told
: Third Person (mostly Yael), Past Tense
Content Rating
: Older Teen (German swearing, violence, genocide, child experimentation, minor torture and disturbing images)
Format Read
: ARC (trade)
Find On
:
Goodreads
Purchase On
:
Amazon | B&N | Book Depository
Summary
:
Code Name Verity meets Inglourious Basterds in this fast-paced novel from the author of The Walled City.
The year is 1956, and the Axis powers of the Third Reich and Imperial Japan rule the world. To commemorate their Great Victory over Britain and Russia, Hitler and Emperor Hirohito host the Axis Tour: an annual motorcycle race across their conjoined continents. The victor is awarded an audience with the highly reclusive Adolf Hitler at the Victor's ball.
Yael, who escaped from a death camp, has one goal: Win the race and kill Hitler. A survivor of painful human experimentation, Yael has the power to skinshift and must complete her mission by impersonating last year's only female victor, Adele Wolfe. This deception becomes more difficult when Felix, Adele twin's brother, and Luka, her former love interest, enter the race and watch Yael's every move. But as Yael begins to get closer to the other competitors, can she bring herself to be as ruthless as she needs to be to avoid discovery and complete her mission?
* * *


In a Sentence
: An interesting if contemplative alternate history with an intriguing twist but clinical writing style.
I rarely read historical fiction (although history fascinates me, go figure), but when I found out this book had a "powered" girl and was set in an alternate history where Hitler won the war, I was too intrigued not to try it. Essentially I found it an interesting plot and setting with a strong main character, but the writing was a little too clinical and the story more internal contemplation than external action.
Story
: Although the basic plot followed a girl on a mission to win a race and assassinate Hitler, the story focused mainly on Yael's personal struggle with identity. The race was more a backdrop for her journey of self-discovery, with little time spent on the actual race except for a few key scenes to broaden Yael's internal reflection. Despite this the story was engaging enough, although I surprisingly enjoyed the "Then" flashbacks, which had greater depth and heart, much more than the "Now" story. Also, with the "Now" race I rarely felt urgency, and in fact on several occasions put the book down for days without feeling the need to return to it right away unless I was in the middle of a "Then" section. The "Now" story did have its moments though, and Yael showed some true skill and bravery in some intense situations.

Writing
: While the subject matter was on the heavier side (concentration camps, child experimentation, assassination, etc.), the story was surprisingly light due to a rather clinical writing style. This style also dulled the tension though, dissecting the action and drawing it out so much that occasionally I grew impatient and my eyes started skipping paragraphs to get on with the story. It also distanced me from the emotional resonance of the story, and although I had no trouble understanding Yael's emotions, I rarely felt them.
Characters
: Yael was a shattered girl who had lost everything, including herself, and was now shoddily held together by anger and hatred and fueled by a desperate desire to rid the world of the evil that ruled it. But despite her brokenness she was strong and courageous, and even in her desperation she showed a caring heart for the misguided enemies around her. Due to the clinical writing style I can't say I connected very emotionally with her, but she was a powerful character and I enjoyed following her journey. The boys were good companions, adding interesting obstacles and new avenues for Yael to contemplate - Felix to the familial past, and Luka to the unknown future.
Romantic Relationships
: Going in I wondered if some kind of love triangle with the two boys would arise, but there was very little romance to speak of and thankfully only with one of them.
Conclusion
: Overall this was an interesting story with a strong main character and intriguing alternate history, even if the clinical writing style dulled the tension. Although I felt this book stands alone nicely enough, it is the first in a duology. It will depend on the plot, but considering the twist at the end of this book I might be interested in seeing what happens in the next.