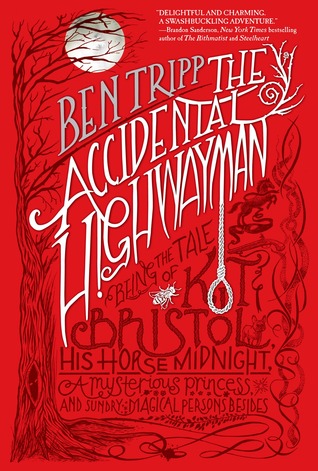 Title
:
The Accidental Highwayman: Being the Tale of Kit Bristol, His Horse Midnight, a Mysterious Princess, and Sundry Magical Persons Besides
Series
: Adventures of Kit Bristol, Book 1
Author
: Ben Tripp
Publisher
: Tor Teen
Release Date
: October 14, 2014
Genre
: Young Adult Fairytale Adventure
Content Rating
: Teen (some violence and scary situations, squeamish prison conditions, magical creature battles)
Told
: First Person Singular (Kit), Past Tense
Format Read
: ARC (publisher)
Find On
:
Goodreads
Purchase On
:
Amazon | B&N | TBD
Summary
:
In eighteenth-century England, young Christopher "Kit" Bristol is the unwitting servant of notorious highwayman Whistling Jack. One dark night, Kit finds his master bleeding from a mortal wound, dons the man's riding cloak to seek help, and changes the course of his life forever. Mistaken for Whistling Jack and on the run from redcoats, Kit is catapulted into a world of magic and wonders he thought the stuff of fairy tales.
Bound by magical law, Kit takes up his master's quest to rescue a rebellious fairy princess from an arranged marriage to King George III of England. But his task is not an easy one, for Kit must contend with the feisty Princess Morgana, gobling attacks, and a magical map that portends his destiny: as a hanged man upon the gallows….
* * *

Review copy provided by publisher for an honest review. Thank you, Tor!
Why I Read It
: It sounded like too much fun
not
to read!

Three Words
: Playful. Adventurous. Clean.
Series
:
As far as I know this is a standalone, although the end was certainly left open for a sequel - and I certainly wouldn't mind one.
This is the first book in the Adventures of Kit Bristol series. Book 2,
The Accidental Giant
, currently has no release date.
Writing
: The story was told in retrospective journal form (said journal found by Mr. Tripp), which allowed for "Little did he know" comments and emotional ponderings. Mr. Tripp opened the book with a Note that he "exercised a little editorial judgment" to modernize and clarify a few things, and in the text had several footnotes to define certain words and terms. A few of the characters spoke in broken, accented, and slurred English, which slowed absorption a bit, but there wasn't too much of it to put me off.
Setting
: A fantastical historical British empire? Life is mainly non-magical for most humans, but Kit discovers there be Faeries from another realm (the Middle Kingdom) living along them. We spend most of our time in the First Realm (the human world), with a short trip or two into a realm betwixt the twain (the Realm Between, I believe). No matter the realm, Mr. Tripp didn't pull any punches when it came to realism, and Kit's life was regularly quite uncomfortable (he was in various states of damp for over half the book alone), and occasionally rather unpleasant to read about (I still shudder when I recall the prison).
Story
: The story had a classic flow and feel, somewhat subdued and rather playful with long stretches of travel adventure and sudden bursts of action. There was something for everyone of all ages: mistaken identity, magical quests, Faerie creatures (fae, goblings, trolls, witches, gryphons, etc.), masked men, enchanted items, broken hearts, entertainers and traveling shows and acrobatic feats, gold, an amazing horse and a cute dog, royal families, tree-climbing, horse feathers, and while not
quite
a happily ever after, a revelation and the promise of one to come.
Characters
: Kit was a fun narrator to follow. While he wasn't much for adventuring, he wasn't afraid of it and certainly didn't shy away from it when duty called or someone he cared about was in trouble. He seemed rather indifferent to it, really, but in my opinion this actually made for a better read. The rest of the cast was a colorful bunch of characters, and included but was most certainly not limited to an escaped faerie princess, two tiny but brave feyin of the rebel Faerie army, a brokenhearted high-rope dancer, an old baboon, an addlepated uncle, and a magnificent steed. And that's just the Puggle's Spectacular troupe. Mr. Tripp has a flair for characters with flair, and they were very entertaining.

Romantic Relationship
: The romance was the only issue I had with this story, in that I didn't feel it at all. It didn't truly hit until three-fourths of the way through the book, and even then it was barely present until the last few chapters when there was nothing for Kit to think about
but
his feelings. Yet even then, while Kit certainly felt it, I really did not. This said however, I liked the romance's civilized and almost aloof air, especially considering how steamy YA romances tend towards nowadays. So while I didn't feel it, I appreciated its decorum. And because the romance was left until the end, there was almost nothing of it, which made for a rather innocent read that, aside for some violence, could be considered quite suitable for most ages.
Conclusion
: A playful, adventurous, and clean fairy-tale story that I quite enjoyed. Although I haven't read
The Princess Bride
or
Stardust
, I have seen the movies and definitely concur the publisher's "for fans of" recommendation. If there come a sequel, I will definitely read it.
For Fans Of
:
The Princess Bride
,
Stardust
Scribble Rating:
4 of 5 Scribbles