Welcome to the Kick-Off of The Twixt Guided Tour! Here you will find all you need to know about an upcoming month of fun and discovery in Dawn Metcalf's world of The Twixt!
What is The Twixt Guided Tour?
Six characters from The Twixt will act as tour guides to significant locations in the series
! Whether already a fan or new to the books, you'll discover some interesting and magical places while getting to better know key players in this unique and fantastical world.
The stops will take place Tuesdays and Thursdays in October. B
e sure to mark your calendar with the dates and host blogs below - you will need to visit all of the stops
to win the Grand Prize Pack, and to access the Secret Digital Prize at the end of the Tour!
Tues, 10/07:
Libby Blog

The Tour and Grand Prize Pack giveaway will begin Tuesday, October 7th.
How do I enter the Grand Prize Pack giveaway?

Each of the six stops on the Tour will have a code word - an underlined word in the text of the tour piece. Enter this code word into the Rafflecopter form at the end of each stop. You must enter all six code words to be eligible to win the Grand Prize Pack. You can also earn extra entries by spreading the word about the Tour via social media, Following the series on Facebook, and/or adding the books to Goodreads (but you must have entered all six code words before the contest closes to be eligible to win).
Entries for the Grand Prize Pack will be open Tuesday, October 7th through Thrusday, October 30th, and the winner will be announced Saturday, November 1st.
What's in the Grand Prize Pack?
An author annotated, cartoon-illustrated copy of Indelible (Book 1)

A $10 gift card to Barnes & Noble

A vintage Reed & Barton Rose Damask necklace

Bookish swag (signed bookmarks, temporary tattoos, stickers)
Where will the Grand Prize Pack giveaway be available?

US and Canada only. Apologies to International fans!
What is the Secret Digital Prize?
As the name implies, it's a secret! ;) But if you enjoy the Tour, you'll enjoy the prize!
How do I obtain access to the Secret Digital Prize?

Physically collect all six code words! Write them on a notepad next to your keyboard, save them in a document on your desktop, tattoo them on your arm - just have all six handy at the end of the Tour. Exact instructions on how to access the Secret Digital Prize with those code words will be revealed Tuesday, October 28th.
I'm new to the series - tell me more about the books?

I'd love to! The Twixt is an ongoing Young Adult Contemporary Fantasy series by Dawn Metcalf
from HarlequinTeen.
Two books are currently available - take a look: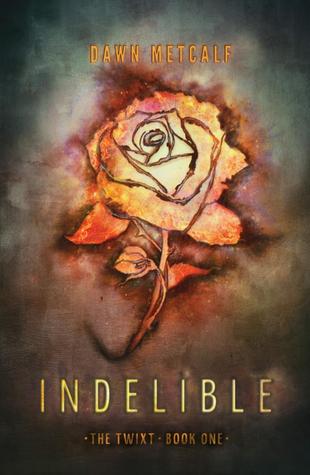 Title: Indelible (The Twixt #1)
Release Date:
July 30, 2013
Summary:
Some things are permanent.
Indelible.
And they cannot be changed back.
Joy Malone learns this the night she sees a stranger with all-black eyes across a crowded room—right before the mystery boy tries to cut out her eye. Instead, the wound accidentally marks her as property of Indelible Ink, and this dangerous mistake thrusts Joy into an incomprehensible world—a world of monsters at the window, glowing girls on the doorstep, and a life that will never be the same.
Now, Joy must pretend to be Ink's chosen one—his helper, his love, his something for the foreseeable future...and failure to be convincing means a painful death for them both. Swept into a world of monsters, illusion, immortal honor and revenge, Joy discovers that sometimes, there are no mistakes.
Somewhere between reality and myth lies…
THE TWIXT
Title: Invisible (The Twixt #2)
Release Date:
September 30, 2014
Summary:
Some things lie beneath the surface.
Joy Malone wants it all: power, freedom and the boyfriend who loves her. Yet when an unstoppable assassin is hired to kill her, Joy learns that being the girl with the Sight comes with a price that might be too high to pay. Love will be tested, lives will be threatened, and everyone Joy knows and cares about will be affected by her decision to stand by Ink or to leave the Twixt forever.
Her choice is balanced on a scalpel's edge and the consequences will be more shattering than anyone can know.
Tell me more about the author?

She's amazing! Check her out:
Dawn Metcalf has always lived on the edge between reality and magic, which explains her current profession and love of fantasy books and games. Her passions include karate, fairy tales, Victoriana and dark chocolate, often combining one or more of them in unexpected ways. Currently, she lives with her husband and family in northern Connecticut. If they had a sign, it would be: Confounding the Neighbor Children Since 1999. Dawn's current Young Adult series with HarlequinTeen, The Twixt, has four titles: Indelible (July 2013), Invisible (September 2014), Inviolate (June 2015), and Invincible (May 2016). She debuted with a Young Adult standalone, Luminous (June 2011,
Dutton Juvenile
).
That's it for now! If you have any questions, just comment below for the answer. Otherwise, I'll see you on the Tour!