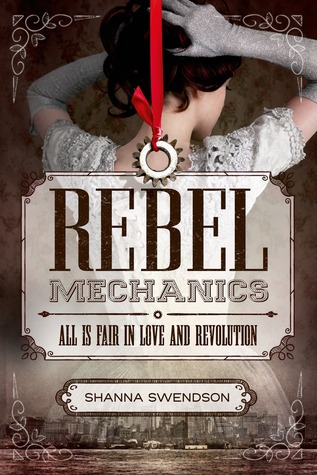 Title
: Rebel Mechanics
Series
: Rebel Mechanics, Book 1
Author
: Shanna Swendson (
site
)
Publisher
: Farrar, Straus & Giroux BYR
Release Date
: July 14, 2015
Genre
: Young Adult Alternate History Magical Realism
Told
: First Person (Verity), Past Tense
Content Rating
: Teen (violence, kissing)
Format Read
: Hardcover (purchased used)
Find On
:
Goodreads
Purchase On
:
Amazon | B&N | Book Depository
Summary
:
A sixteen-year-old governess becomes a spy in this alternative U.S. history where the British control with magic and the colonists rebel by inventing.
It's 1888, and sixteen-year-old Verity Newton lands a job in New York as a governess to a wealthy leading family—but she quickly learns that the family has big secrets. Magisters have always ruled the colonies, but now an underground society of mechanics and engineers are developing non-magical sources of power via steam engines that they hope will help them gain freedom from British rule. The family Verity works for is magister—but it seems like the children's young guardian uncle is sympathetic to the rebel cause. As Verity falls for a charming rebel inventor and agrees to become a spy, she also becomes more and more enmeshed in the magister family's life. She soon realizes she's uniquely positioned to advance the cause—but to do so, she'll have to reveal her own dangerous secret.
* * *


In a Sentence
: A fun and adventurous story of secrets and revolution with bandits, spies, and magic set in an alternate historical steampunk-esque world.
It takes a really interesting premise nowadays to not only get me to read a book, but to read it hardcover. I almost never read hardcover for a number of reasons, the main being that my ailing wrists simply can't take the heft, but when I stumbled upon a signed half-price hardcover of this magical alternate history I couldn't resist not only purchasing it but reading it immediately, and bore the pain to devour it in just a few days.
As I'd imagined, it was just my sort of story. Strong, well-read main character out to make her way in the world. Interesting, magical setting that's both familiar and different. An unusual living situation with an eccentric yet secretive employer and adorable charges. And an adventurous story packed with thrills and intrigue. Needless to say I was hooked right from the start and once I'd begun I hated to put it down.
The writing was light and fun, with excellent chapter breaks and delivery - although I saw a few of the twists coming early on I still gasped when they finally hit. The plot was quick and engaging, the story a chain of rousing adventures that included robberies, reconnaissance, riots, and rescues. Verity's growth from naive, sheltered girl into strong, independent revolutionary was exciting to follow, and her love of reading and writing was butter on the teacake. The rest of the cast was a lively and colorful mix of mechanics and magisters, but I especially adored the family Verity worked for with their blend of ordinary and eccentric - scenes featuring Mechanics may be considered more "exciting," but for me most of the best scenes were with members of the Lyndon household.
Alas, I did have one problem with the book: the romance, which proved a dangerous case of instalove. Verity immediately became besotted with a Mechanics boy upon gazing into his eyes and, although she wasn't instantly on board with the revolution she was eager to impress and please him however she could, despite the fact that if she was caught she could be arrested - or much worse given her secret. At a few midway points I found myself rather frustrated with her, but thankfully the story eventually veered her away from her infatuation and Verity started making her own decisions about her role in the revolution.
Conclusion
: A fun, exciting and magical alternate history that I will definitely be reading again (although hopefully in softcover) and recommend for anyone who enjoys light reads with elements of history and magic. I'm greatly looking forward to the next in the series, and hope this will turn into at least a trilogy!
For Fans Of
:
Gail Carriger
,
Mary Robinette Kowal