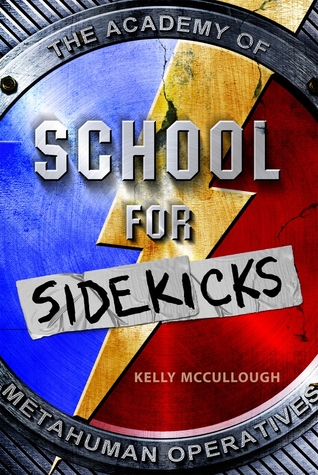 Title
: School for Sidekicks
Series
: standalone
Author
: Kelly McCullough
Publisher
: Feiwel & Friends
Release Date
: August 4, 2015
Genre
: Middle Grade Alternate Superhero Action-Adventure
Told
: First Person (Evan), Past Tense
Content Rating
: Older Middle Grade (violence and death, superhero fighting, thematic elements)
Format Read
: ARC (trade)
Find On
:
Goodreads
Purchase On
:
Amazon | B&N | Book Depository
Summary
:
Being a hero isn't always what it's cracked up to be in this funny and genuine novel from adult fantasy author Kelly McCullough.
Evan Quick is a GIANT superhero geek who dreams of one day becoming a superhero himself. Every morning he checks to see if he's developed his powers overnight, and every day there's nothing. No flying, no super strength, no invulnerability—that always hurts to check—no telepathy, no magic. Not even the ability to turn off the alarm clock without smacking the switch.
But then Evan somehow manages to survive a supervillian's death ray, and is sent to the Academy for Metahuman Operatives. Unfortunately, his new school is not what he expected, and instead of fighting bad guys, Evan finds himself blacklisted, and on the wrong side of the school's director. If Evan ever wants to realize his dream, he must convince his "mentor" Foxman, a semi-retired has-been, to become a real hero once again.
* * *

In a Sentence
: A campy but also complex Middle Grade that explores the hero-villain dynamic.
With a name like "School for Sidekicks" I expected a story similar to
Sky High
: a campy action-adventure about kids with "lesser" powers proving they have what it takes to be heroes. But while
School for Sidekicks
did begin with the same
Sky High
vibe, it grew into something much more contemplative that both entertained and made me think.
The story was an interesting mix of mockery and morality that, while the superhero names and powers and classes and tech were for the most part rather farcical, the life lessons that Evan learned about good and bad and the wide gray area between were thoughtful, sometimes almost solemn - more on par with the revelations of adult superheroes than 13 year-old boys. Evan's journey started young and naive, an ultimate fanboy whose ultimate dream came true, but he quickly learned that fulfilled dreams aren't always what they're cracked up to be. He was a trooper though, and even though the results weren't exactly what he'd been hoping for he made the best of his situation, growing and adapting until he embraced his responsibilities with a more mature outlook. The young start was a bit of a struggle for me since I've rather outgrown a lot of middle grade now and I almost gave up a few chapters in, but I stuck with it and was greatly rewarded with interesting powers, great banter, both spirited and sedate action, and some surprising ponderables.
The writing was playful, with occasional sound effects and even a little breaking of the fourth wall, which worked well for the Middle Grade book. The description was a little hard to picture and follow, but the dialogue (especially between Evan and Foxman) was engaging and fun. The

setting - an
alternate Earth where in 1988 a radiation bomb killed millions but transformed hundreds into the first Masks and Hoods (heroes and villains) - takes place in the "present," where the superpowered are revered like our sports players and their innovations have elevated technology to higher levels than ours. While the differences could be a little over the top, they gave the heavier content a more animated backdrop that age-appropriate readers should appreciate. Evan was young but bright, and I enjoyed watching his growth from flailing fanboy to strong sidekick, absorbing
everything he learned and forging his own path, making his own decisions. The rest of the cast was eclectic and eccentric and made interesting associates and adversaries that added mainly to the camp but also to occasionally to the contemplation.
Conclusion
: A fun but also thoughtful superhero adventure that I really quite enjoyed! Definitely recommend for anyone who likes a good superhero story with some camp. While
School for Sidekicks
is currently a standalone, there is definitely more to Evan's story that I feel needs to be told - keeping my fingers crossed for a sequel!
For Fans Of
: Sky High