Today kicks off the PRUDENCE READ-ALONG, co-hosted here on Skye's Scribblings and the Goodreads Gail Carriger Fan Group! (
If you haven't yet heard about the Read-Along, check out the Introduction post
here
!)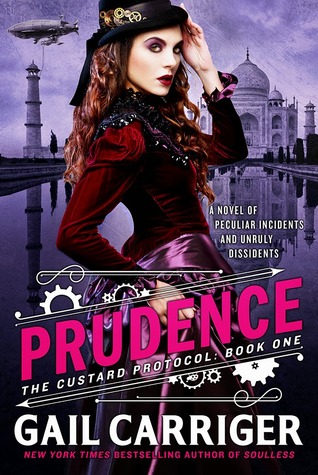 Title: Prudence
Author: Gail Carriger
When Prudence Alessandra Maccon Akeldama (Rue to her friends) is given an unexpected dirigible, she does what any sensible female would under similar circumstances - names it the Spotted Custard and floats to India in pursuit of the perfect cup of tea. But India has more than just tea on offer. Rue stumbles upon a plot involving local dissidents, a kidnapped brigadier's wife, and some awfully familiar Scottish werewolves. Faced with a dire crisis and an embarrassing lack of bloomers, what else is a young lady of good breeding to do but turn metanatural and find out everyone's secrets, even thousand-year-old fuzzy ones?
So here's how the read-along will work
: Each Sunday through Saturday for the next 4 weeks, we will read 4 chapters of Prudence, breaking down the month thusly:
June 12th through June 18th
:
Chapters 1-4
June 19th through June 25th
:
Chapters 5-8
June 26th through July 2nd
:
Chapters 9-12
July 3rd through July 9th
:
Chapters 13-16
The Saturday of each week (Friday evening on the Goodreads Fan Group), I will post a brief review of that week's chapters, along with a single Q&A with the author. If you Comment with your thoughts on either the Fan Group thread or the post, you earn major points towards my giveaway for a set of Carriger buttons! Want to share your thoughts live as you read? Tweet them using
#PrudenceRA
! But be sure to collect and share your comments on the weekend post to earn giveaway points.
So here we go! Make yourself a nice cup of tea, settle into your favorite reading spot, open your copy of Prudence to Chapter 1: The Sacred Snuff Box, and begin...
"Lady Prudence Alessandra Maccon Akeldama was enjoying her evening exceedingly. The evening, unfortunately, did not feel the same about Lady Prudence...."
Questions? Comment below or on the Fan Group post here!
Giveaway:
In honor of the read-along I'm holding a giveaway here on Skye's Scribblings for a Custard Protocol button set procured from
Gail Carriger's Zazzle merchandise account
! To enter, spread the word about the read-along and join the discussion either below or on the Gail Carriger Fan Group!
a Rafflecopter giveaway