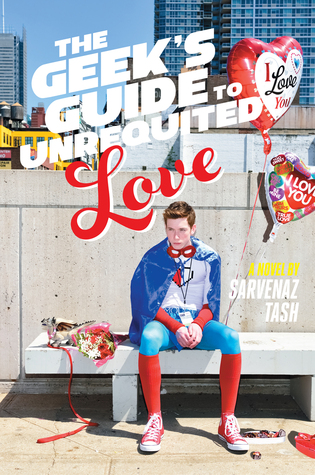 Title
: The Geek's Guide to Unrequited Love
Series
: standalone
Author
: Sarvenaz Tash (
site
)
Publisher
: Simon & Schuster
Release Date
: June 14, 2016
Genre
: Young Adult Contemporary Romance
Told
: First Person (Graham), Present Tense
Content Rating
: Teen (some language)
Format Read
: ARC (publisher)
Find On
:
Goodreads
Purchase On
:
Amazon | B&N | Book Depository
Summary
:
John Hughes meets Comic Con in this hilarious, unabashedly romantic, coming-of-age novel about a teenager who is trying to get his best friend to fall in love with him from the author ofThree Day Summer.

Peter Parker and Gwen Stacy...
Archie and Veronica...
Althena and Noth...
...Graham and Roxy?

Graham met his best friend, Roxana, when he moved into her neighborhood eight years ago, and she asked him which Hogwarts house he'd be sorted into. Graham has been in love with her ever since.

But now they're sixteen, still neighbors, still best friends. And Graham and Roxy share more than ever—moving on from their Harry Potter obsession to a serious love of comic books.

When Graham learns that the creator of their favorite comic, The Chronicles of Althena, is making a rare appearance at this year's New York Comic Con, he knows he must score tickets. And the event inspires Graham to come up with the perfect plan to tell Roxy how he really feels about her. He's got three days to woo his best friend at the coolest, kookiest con full of superheroes and supervillains. But no one at a comic book convention is who they appear to be...even Roxy. And Graham is starting to realize fictional love stories are way less complicated than real-life ones.
* * *

Review copy provided by publisher for an honest review. Thank you, Simon & Schuster!

In a Sentence
: A fun but contemplative story about first love, expectations, and the chaos of real life.
Eager to admit his more-than-guy-best-friend feelings to his female partner in comics, Graham plots the perfect setup to say the three little words at the New York Comic-Con. But when nothing goes as planned and he ends up revealing his feelings at an awkward time, her reaction forces him to reevaluate his expectations as he realizes that fantasy and reality can be vastly different things - and sometimes reality is so much better.
This was a quick and quirky read that really scratched my comicon itch with a peek into the New York Comic-Con. It was more contemplative than I'd anticipated, digging deep into the emotions of first love, the dynamics of boy-girl friendships, the fallout of one-sided love, and the difference between fiction and reality. But despite these more sober issues it was a light read with plenty of playful banter and all the fandom references a geek could ask for, including some epic
Princess Bride
action (#InigoMontoyaSmackdown). The writing was solid with snappy dialogue and an easy read voice, and the diverse cast was realistic and effortless to invest in from the first page. How things went down between Graham and Roxy actually rather surprised me (you'd think the title would've been a blaring clue), but just like Graham I found closure and even anticipation of things to come by the end of the book.
Conclusion
: While not quite the zany comic convention adventure I'd hoped for (and the cover led me to believe),
Geek's Guide
was an engaging tale of first love and fantasy vs. real life. Definitely recommend for contemporary romance lovers with a geek streak.