Welcome to the second review in the
PRUDENCE READ-ALONG
, hosted here on Skye's Scribblings and the
Goodreads Gail Carriger Fan Group
! (For information on the Read-Along, see the Introduction post
here
.) Below are my brief thoughts on this week's chapters, as well as a Q&A with the author and
yet another giveaway
, this time for a finished copy of the sequel,
Imprudence
!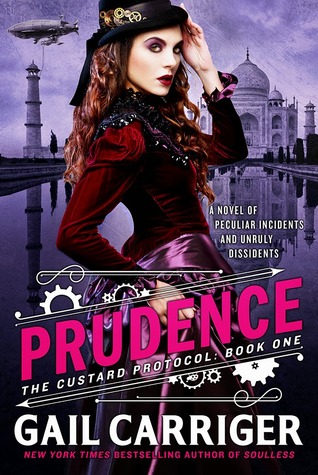 Release Date: March 17, 2015
Publisher: Orbit
Summary:
When Prudence Alessandra Maccon Akeldama (Rue to her friends) is given an unexpected dirigible, she does what any sensible female would under similar circumstances - names it the Spotted Custard and floats to India in pursuit of the perfect cup of tea. But India has more than just tea on offer. Rue stumbles upon a plot involving local dissidents, a kidnapped brigadier's wife, and some awfully familiar Scottish werewolves. Faced with a dire crisis and an embarrassing lack of bloomers, what else is a young lady of good breeding to do but turn metanatural and find out everyone's secrets, even thousand-year-old fuzzy ones?
This week we read Chapters 5-8.
WHAT HAPPENED:
After an unconventional run-in with a mysterious lioness and two even more mysterious women at the exotic Maltese Tower, the Spotted Custard proceeds to India where they dock and attend a garden party. There they make intriguing acquaintances, engage in cryptic conversations, and receive a curious communication, and upon returning to the ship discover a surprise visitor...
MY THOUGHTS ON...
Settings:
Hodgepodge docking ports such as the Maltese Tower are one of my favorite settings! While the Tower had its historical elements, it reminded me more of something out of science fiction with its patchwork construction and cultural melting pot. I also loved how exotic the excitement was at the Tower as well, with its rampant lioness and women in robes and teahouse in the rough. I'd actually forgotten about the Tower from my previous read until right before they arrived and really enjoyed rediscovering it all over again.
Plot:
Rue's misunderstandings and misinterpretations of discussions with new acquaintances was initially amusing but essentially a bit frustrating. It's easy to tell they are speaking of something rather different and usually more important, but Rue refuses to really acknowledge it or just brushes it off in favor of her own amusement. While it makes for fun dialogue at the time, it feels as though it is impeding the plot flow a bit.
FAVORITE...
Character:
A tie between Spoo and Virgil. Both, especially when together, are a pure delight to read.
Scene:
Sidheag's introduction. The playful familial banter was such fun, and she has always been a favorite through the series. A close second is the garden party as a whole with its tea espionage, mistaken identity, multiple intriguing introductions, and peppered curry.
Quotes (there were so many I couldn't pick just one):
"Ah, to be young and agile again," said Primrose.
"We were never that young," replied Rue.
"More to the point, we were never that agile," said Prim with a soft smile.
"But...sparkles," said Prim forlornly.
Much as Percy was deadly attractive to the ladies, his sister had a similar effect on the gentlemen. Rue gave a little mental sigh. No one would ever describe her as deadly attractive. She brightened a bit. Perhaps she could aspire to just deadly?
One could not blame a people for disliking vampires. Vampires were like Brussels sprouts - not for everyone and impossible to improve upon with sauce. There were even those in London who disapproved of Dama, and he was very saucy indeed.
So what were your thoughts on Chapters 5-8? Join the discussion on the Gail Carriger Fan Group HERE or Comment below!
NEXT (6/26 - 7/2) WE READ:
CHAPTERS 9-12
Q. What are some of the things that you got to do / explore in Prudence that you didn't or couldn't in your previous series?

A. Issues of colonialism, imperialism, and colonization. This is my first real opportunity to question British behavior, or (more precisely) to have my characters travel far enough out of their safe upper crust worldview to start questioning themselves and their Empire.

Author Links:
In honor of the Read-Along, Ms Gail has generously donated
two signed Prudence ARCs
!! As these would be a special addition to any Carriger fan collection, this giveaway will be open to
Gail Carriger Fan Group Members
only
. (US addresses only though, apologies International fans!) Want an ARC for your collection? Just be or become a
Fan Group member
and join the read-along discussion!
a Rafflecopter giveaway
And don't forget I'm also holding a giveaway here on Skye's Scribblings for a Carriger button set procured from
Gail Carriger's Zazzle merchandise account
! To enter, spread the word about the read-along and join the discussion either below or on the Gail Carriger Fan Group!
But that's not all
- the publisher (thank you, Orbit!) has generously donated a finished copy of Book 2 in The Custard Protocol,
Imprudence
, which releases July 19th! To win, just fill in the extra entry on the Rafflecopter form and continue to join the
Prudence
discussion!
(
Important Giveaways Note:
If you post your discussion comments on the Goodreads Fan Group, your single post link can be entered into both giveaway forms - you don't have to post at both locations, or do more than one post. Unless you want to, of course! ;)
a Rafflecopter giveaway